Branding Our Dreams
How do you stand out? How do you let others know what you are all about while staying true to your mission?
Nearly seven years ago, Clayton State University embarked on a journey to answer these questions with a clear purpose in mind–to bring greater awareness to the institution and increase enrollment.
At a time when four-year public institutions have reportedly increased advertising spending by 43 percent between 2013 and 2016, Clayton State sought to execute a multi-faceted brand advertising campaign just as Georgia's state budget was recovering from the 2008 recession.
The result–a new redesigned website, increased advertising, and a commitment by the University's faculty, staff, and students to embrace and promote the dreams being made on campus.
In search of a dream
In 2011, the University implemented its five-year strategic plan built around a commitment to community engagement, in addition to assessing how the University communicated about itself to audiences within the metro Atlanta area.
The plan prompted a complete review of communication standards including colors, typography, and conditions governing the use of institutional logos.
Recognizing the diversity of colleges, universities, and technical schools in metro Atlanta, Clayton State officials realized the need to be a competitive player in the higher education market.
Clayton State worked with Stamats, an Iowa-based firm that conducted research and analysis on what made the University special and what values the community embraced.
These values are what now drives the messaging of the institution: empowering experiences, inclusive diversity, engaged experiential preparation, and supportive community. From these values, the University's brand tagline was born––"Dreams. Made Real."
"Research with both internal and external audiences concluded that 'Dreams. Made Real.' captured an authentic view of value Clayton State University brought to our students and our community," says Dr. Tim Hynes, president of Clayton State University. "The planning process also recognized that the University needed to become more intentional communicating with audiences—both in and out of the University—if we were to successfully expand the recognition of, and support of, Clayton State University."
Making it real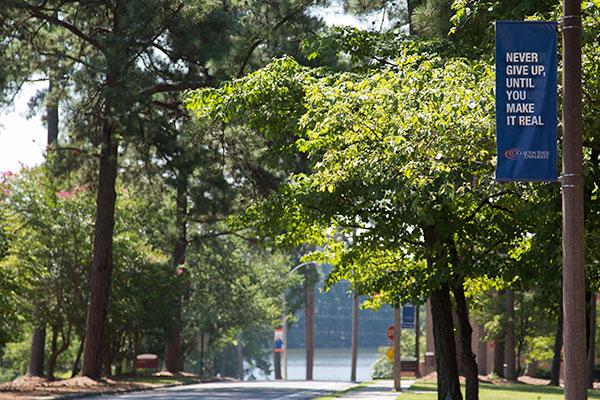 With "Dreams. Made Real." selected as the vehicle through which Clayton State would begin to express its mission and values to the community, the University made it a priority to develop a comprehensive marketing and communications program in Strategic Plan 2022, an update to the University's earlier strategic plan. This included a university-wide project to restructure and redesign the University website, again working with Stamats.
Work on the project began in 2015.
Additionally, work was done in-house to establish additional brand elements such as brand voice, a clear visual identity structure, and expanding the brand color palette.
"Clayton State and Stamats teams collaborated intensely and productively throughout this process. We cherish the partnership," says Becky Morehouse, senior vice president at Stamats. "Our work together reflects a true collegiality where we all work toward the same important goal—to tell the Clayton State University story so compellingly and consistently that it moves the University, its students, and its communities forward."
The Office of Marketing and Communications led the redevelopment of Clayton State's website, as well as the creation of the University's first-ever brand campaign, signaling a major step forward for the young University to highlight its place as a formidable institution in metro Atlanta's higher education sector.
"There is so much advertising noise in the higher education space that it's really important to be clear and focused on what we want others to know about us," says Maritza Ferreira, assistant vice-president of Marketing and Communications. "And, we need to communicate it in a way that is relevant and yet unique compared to what anyone else could possibly say."
The messaging and media placement strategy was informed by multiple research studies including a Prizm Nielson study that analyzed the demographics, geographics, and psychographics of the current student population to identify look-a-likes in the market place. An enrollment analysis from Carl Vinson Institute of Georgia also provided additional data and insight into market potential.
"Clayton State has a good brand," says Maritza. "From the research we knew that the market wanted to know more about us, and we also saw in some of our early focus groups that even our own community wants to better understand who we are and the value we bring. This along with our other studies and data sources not only informed us of what messages would resonate with our audiences, but also where to find potential students to maximize our investment."
Investing in the dream
Clayton State made an initial year investment of $465,693 toward the campaign, representing a strong commitment to being good stewards of the University's resources in addition to ensuring that the brand strategy closely aligns with the University's goals.
Entitled "Dare to Dream," the brand campaign was designed to invite prospective students to discover the possibilities Clayton State offers to earn a degree and begin the journey toward career success.
"Through the brand campaign, we wanted to show what our values actually look like in action and the hard work it takes to pursue a dream," says Maritza. "Getting up early before everyone else. Pushing through a long day at work and still making it to class. The long nights to prepare for that exam. If you have a dream, Clayton State can empower you to make it real."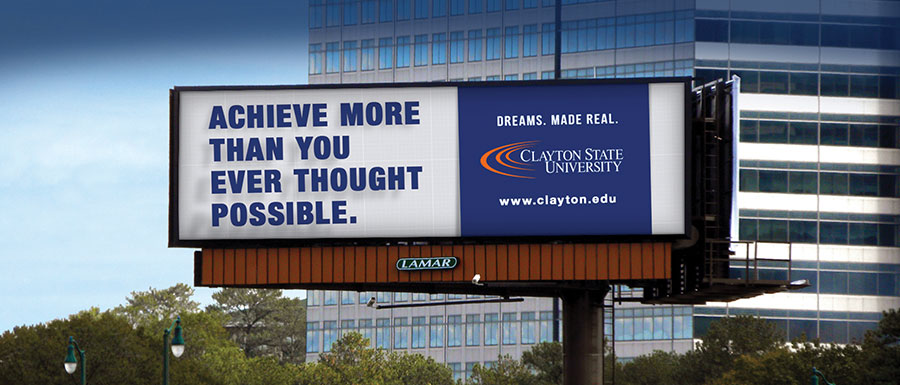 The University website launched in December 2017and features an improved user experience, search engine optimization, branded content, ADA accessibility, and better performance to increase prospective student inquiry pools.
The brand advertising campaign launched in January of 2018 and consists of outdoor billboards, social media, online, radio, streaming TV, and mobile advertising, so people will experience Clayton State's presence all around the greater metropolitan Atlanta area as the campaign increases awareness of the University.
Images in the campaign reflect the University's diverse student body made up of men and women from more than 37 countries. Clayton State's colors, Laker Blue and Georgia Clay, feature prominently, showcasing university pride.
"Each year, prospective students are consistently impressed when they learn more about Clayton State, either through our website, speaking to an admissions representative, or by visiting the campus," says Dr. Stephen Schultheis, assistant vice-president of Enrollment Management. "This campaign seeks to bring greater awareness to the quality education Clayton State offers and to encourage individuals to learn how we make dreams real."
Early predictors indicate the brand campaign will be rewarding for Clayton State. To date, the number of online prospective student inquiries have increased by more than 150 percent compared to last year. And fall 2018 enrollment numbers are trending upward from the previous year as well.
"Clayton State University has set its sights on becoming a competitive player in Georgia's marketplace of higher education. Our mission to develop diverse leaders that make a significant impact on their community reflects our goal of becoming a national model for service learning," says Dr. Hynes. "This brand campaign takes us to the next level––demonstrating the University's relevant role in preparing Georgia's next-generation workforce for the state's booming industries."
Read more stories from this issue