Brotherly Love
Four videos, endless hours of work, and two classes collaborating all for one community cause–recruiting more volunteers to serve as mentors with Big Brothers Big Sisters of Metro Atlanta.
The organization is known for providing children who are struggling with adversity one-to-one relationships with adult role models to a create long-lasting, positive influence in their lives.
Big Brothers Big Sisters of Metro Atlanta serves over 2,000 children from ages six to 18 years old. Many of these children come from low income and single-parent households, with 48 percent having a parent incarcerated.
The benefits to the children are rewarding. Of those that are matched with a mentor, 97 percent graduate high school on time and 87 percent enroll in post-secondary education. On top of that, 99 percent of children in the Big Brothers Big Sisters program never encounter the juvenile justice system.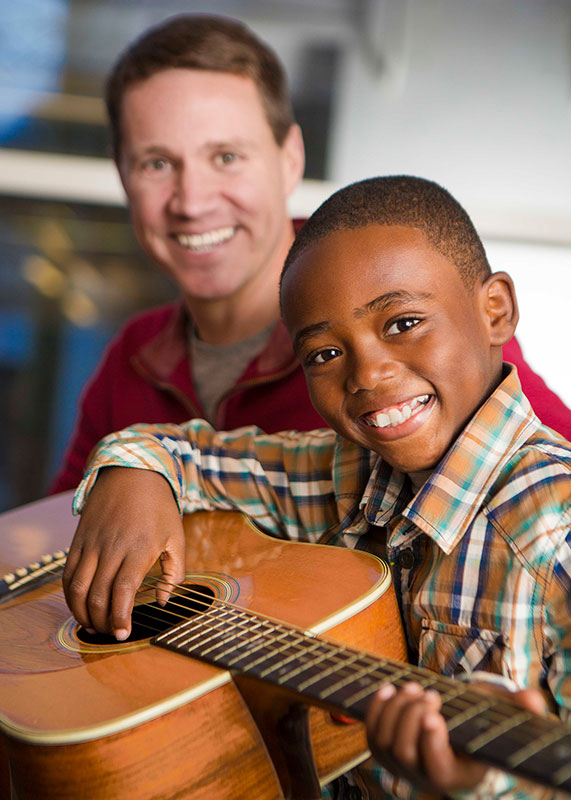 Yet, as meaningful as the organization is to the local community, the Clayton County area is currently facing a shortage of Big Brothers to meet the needs of the children.
That's where Dr. Susan McFarlane-Alvarez's introduction to advertising course and the T.R.U.S.T. agency at Clayton State comes in.
T.R.U.S.T., which stands for Transforming Relations Using Student Thinkers, was formed in 2013 as part of the corporate communications minor.
The agency gives students real-world experience in public relations and communications collaborating with clients both on- and off-campus.
"Our contact at Big Brothers Big Sisters was the recruiting manager for the organization and he needed to produce videos to increase interest in volunteers, but was particularly interested in developing videos to increase engagement with "Big Brothers," young men in the Clayton area, where there was a waiting list of Little Brothers waiting to be matched. Our students were very enthusiastic to get started," says McFarlane-Alvarez.
With that goal in mind, the class set forth their advertising plan beginning with project management. The students were assigned roles from copywriters to account executives and visual designers.
To create the videos, the class assessed in-class talent and soon realized they needed to "outsource" video production by partnering with the University's film production program.
Enter Shandra McDonald's introductory field production course. At the same time the Big Brothers Big Sisters project was ramping up, her class of film majors was beginning work on a documentary/non-fiction project.
The timing was perfect.
"Our classes worked seamlessly through all aspects of production from pre-production through post production. Conference calls and cloud storage were a wonderful resource, since our classes met at different times and different locations during the week," McDonald says. "This was an amazing teaching tool for the students in preparation for the one-day shoot. Both groups were extremely organized."
The film shoot featured the Big Brothers and their Little Brothers sharing their personal stories about the need for more mentors to volunteer for the organization.
For some students, the production was eye-opening and gave them insight as to how ordinary people react to the bright lights of a film shoot.
"Watching the Little Brothers overcome the stresses of being interviewed touched me the most. Each Big Brother explained that their Little Brothers did not have the ideal upbringing, but that they were working hard toward overcoming their situations," says Brianna Jenkins '17, who wrote the scripts for the videos. "The Big Brothers were there to coach them, much like what they do in the program."
Students from spring and fall semester classes in 2017 successfully produced four videos, one of which has already been released to the public.
The students' work also caught the eye of the Big Brothers Big Sisters corporate office and was highlighted and promoted to other regional areas.
"One of the things this project has made me realize, is that by linking the two areas (communications and film) our students got to see the extent of talent and knowledge each area has, as well as the technicality and creativity of the film students," Mcfarlane-Alvarez says.
Mcfarlane-Alvarez also used her advertising course as an opportunity to engage in Clayton State's Partnering Academics and Community Engagement (PACE) program. As a PACE project, the film production gave students the ability to use their classroom knowledge in the real world.
"PACE courses, such as this, enhance the educational process because it allows students to learn more about what they want to do after college while being in a real community environment giving them hands on experience," Jenkins says.
Read more stories from this issue