Sports Entertainment
Employers, students find booming market as sports and entertainment heat up Atlanta
In May, Georgia's Department of Tourism posted a record-breaking $61.1 billion in business sales in 2016 for tourism in the state, according to the U.S. Travel Association and Tourism Economics.
"Georgia's tourism industry impact has shattered records once again. Not only do we welcome millions of visitors each year, but tourism supports employment across multiple industry sectors, employing an estimated 450,000 Georgians statewide," said Gov. Nathan Deal.
A big factor of the Peach state's tourism success is sports and entertainment. With recognizable sports franchises including the football, baseball, basketball and the newly minted soccer club, Atlanta United, the city of Atlanta has become a metropolitan hotspot for athletics events.
The development of the Mercedes Benz stadium and the kickoff of the Atlanta Braves season at the newly-constructed SunTrust Park stadium in 2017 has signaled that the job market in Atlanta looks promising.
Cobb County officials expect major dividends from SunTrust Park that could spur job creation at public schools. Former County Chairman Tim Lee said at the stadium's topping off ceremony in 2016 that more than $120 million in new revenues would be generated over the next decade from the public-private partnership between the Atlanta Braves and the county.
That money would cover the starting salaries for more than 290 teachers in the Cobb County School District.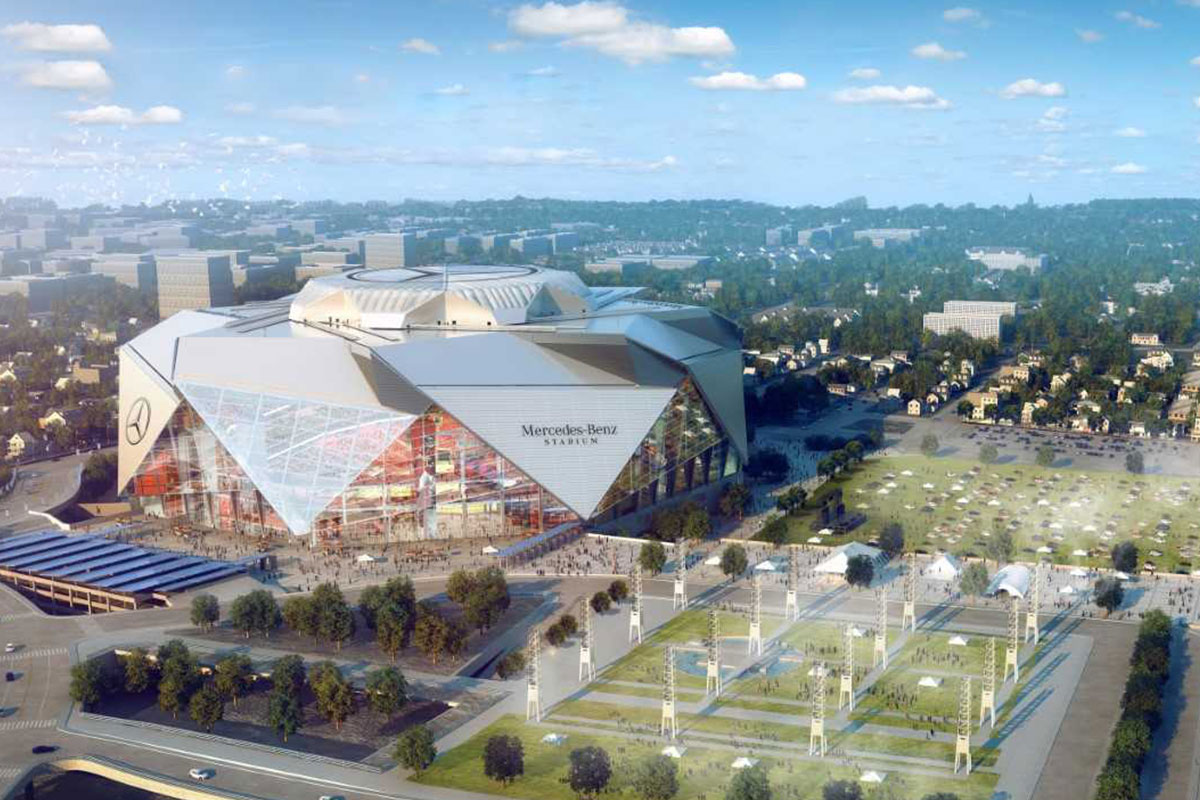 "This is the greatest economic development in Cobb County in more than half a century," Lee said.
Neighborhoods around SunTrust Park, Mercedes Benz Stadium and even Phillips Arena are already becoming hubs for retail, office and residential expansion as mixed-used developments spring up nearby.
Beyond commercial development, there's opportunity for job seekers to find careers directly in sports and entertainment.
Clayton State University students and alums have already begun to make an imprint in the rapidly growing industry.
Jessica Charman, a senior communications major, landed an internship with sports marketing agency SCORE Atlanta this spring to do marketing and editorial writing for Atlanta United, as well as serve as a commentator for high school soccer games.
"I've learned that you have to be versatile in sports media. There are so many sports—baseball, softball, wrestling," Charman says. "I always imagined I'd be in sports, but I always thought I'd be in soccer. But it's about opening your brand to other sports."
Employers in the sports and entertainment field are seeking individuals who can bring new perspectives and can tap into an organization's target audience.
Krystle Carter '15, human resource specialist with Arthur M. Blank (AMB) Sports + Entertainment, says the company's internship brings a variety of college students of all ages that bring their past experiences to the program to benefit the organization.
"We have interns in various aspects of our organization, whether it be Atlanta United or the Atlanta Falcons," Carter says. "They're very eager to show what they learn and what they can do."
Carter says interns get a chance to work alongside company executives, often sitting in on staff meetings.
"It's almost like a job shadowing experience," Carter adds.
Those internships can also lead to job opportunities. Carter got an internship with AMB Group after doing internship stints in Henry County government and at a nonprofit. She eventually earned a job in the human resource department for the sports organization.
While a lot of candidates come across Carter's desk professing a love of sports, she says they must understand what they want to do in the industry.
"Passion is one of our internal core values," Carter says. "It's about honing it in and finding out what they really want to do."
As the Atlanta Braves continue to have a strong season at the new SunTrust Park in Cobb County, and the Atlanta Falcons prepare for the 2019 Superbowl, the capital city is poised to create more jobs and add greater investment to the cityscape.
"I definitely think sports and entertainment in Atlanta is bright," Charman says. "This is the time to really be involved in sports."
Read more stories from this issue