Clayton State Athletics seeks to harness greatness by reconnecting with athletic alumni
A major part of the college experience for student-athletes is the connections that are made during one of the most formative and important times in their lives. Not only do they meet people from different parts of the country, but also around the world, who come to college seeking a great education and a chance to display their athletic prowess.
Beyond a "typical" college experience, student-athletes who have gotten up for those 6 a.m. practices, put in sweat equity in games and fought alongside their teammates to be champions have formed bonds that tend to be stronger than most.
That said, even those connections can fray and even break if not maintained over time, especially as individuals begin their adult lives, advance their careers and have families of their own.
In the spirit of "Once a Laker, Always a Laker," Clayton State Athletics is taking steps to ensure that those bonds that exist remain strong, as well as help reconnect those that may have lapsed.
To that end, the Department has launched the Laker Alumni Student-Athlete Questionnaire, designed to bring together not just former teammates but Lakers of all generations.
Available online at www.ClaytonStateSports.com, the questionnaire provides information on an individual's time at Clayton State, be it as a student-athlete, coach or manager, basic contact info and the opportunity to share what they and their families have been doing since completing their studies.
In an effort to improve those connections, and even create new ones, individuals are given the opportunity to decide what information they would like to be made available to former student-athletes from just their sport, their class or all former student-athletes.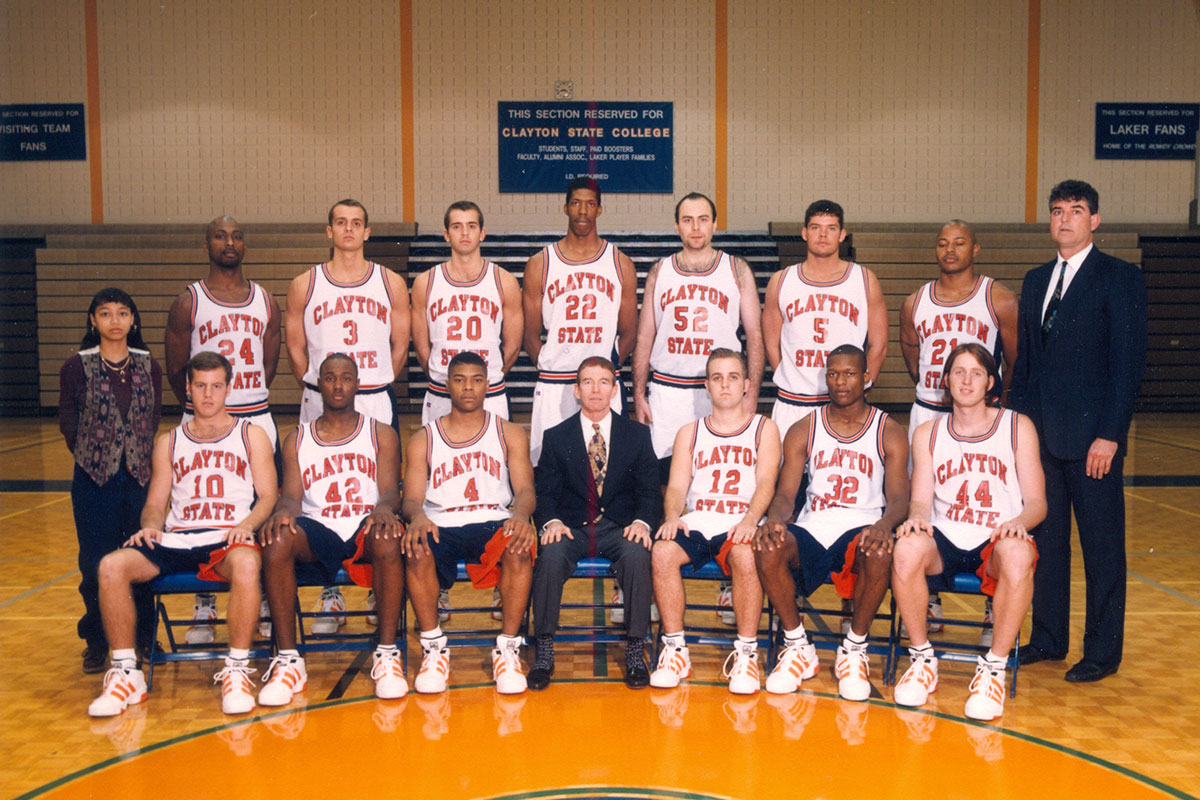 Why is it important to maintain these connections? People move on and start new chapters in their life, and, intentionally or not, leave behind the relationships they developed in the past.
A recent example of this can be found in the story of Sherod Flono and his teammates.
A standout men's basketball player from 1995-99, Flono served as his team's enforcer, always having his teammates backs, and was well respected for it. During his four years, he played with 36 different individuals but not all were in touch with him after their playing careers came to a close.
On March 21, 2017, Flono passed away unexpectedly due to an ongoing illness. Led by his best friend and former teammate John Childs, a number of former teammates, managers and staff members were able to reunite for his memorial a few short weeks later.
Out of the tragedy that precipitated that event, individuals who hadn't been together in years found a way to honor their fallen teammate. Through reconnecting, they started the Sherod Flono Coding Grant for Kids in his memory and created something that will benefit underserved youth in an area Flono was passionate about.
Clayton State Athletics would like to make sure that other great things can come about without an event such as this transpiring.
The goal is to use the information shared by athletic alumni to begin building a database of former Lakers that can eventually grow into an online, password protected resource on www.ClaytonStateSports.com and also help to reconnect individuals with Laker Athletics and the campus as a whole.
The Laker Alumni Student-Athlete Questionnaire can be found under the Laker Traditions tab on the official online home of Clayton State Athletics or by going to www.ClaytonStateSports.com/LakerAlumniQuestionnaire.
Read more stories from this issue