Laker Rewind: Former classmates relive Clayton State College's 1982 production of My Fair Lady
It's 8:30 pm on March 2, 1982. The theatre at Clayton State Junior College is filled with 165 locals, quietly seated, awaiting the college's premiere production of the popular musical "My Fair Lady."
Backstage, a 21-year-old Teresa Reeves-Gilmer '01 and her close friend Jeff Pike '83, also 21, prepare to dazzle the audience in their roles as Eliza Doolittle and Freddy Eynsford-Hill.
The excitement of the moment was captured in an article about the play from The Bent Tree, Clayton State's student-run newspaper. It also helped Reeves-Gilmer and Pike to solidify their passion for a musical career.
Reeves-Gilmer is no stranger to musical performance. She has been songwriting and showcasing her skills at talent shows from a young age.
"I wrote my first song in 1974," she says. "I had an older brother who was a musician so I was always involved in it."
Reeves-Gilmer enrolled in Clayton State as an Early Childhood Education major, but soon became highly involved in her music and theatre courses.
"I'll be honest, I wasn't really focused [on other classes] because I was just so into music," she says. "I was just loving everything that had to do with the music program."
After some encouragement from her best friend, Reeves-Gilmer decided to audition for the college's production of "My Fair Lady" and was completely surprised when she scored the leading role as Eliza Doolittle.
"It was absolutely shocking," she says. "I was very flattered."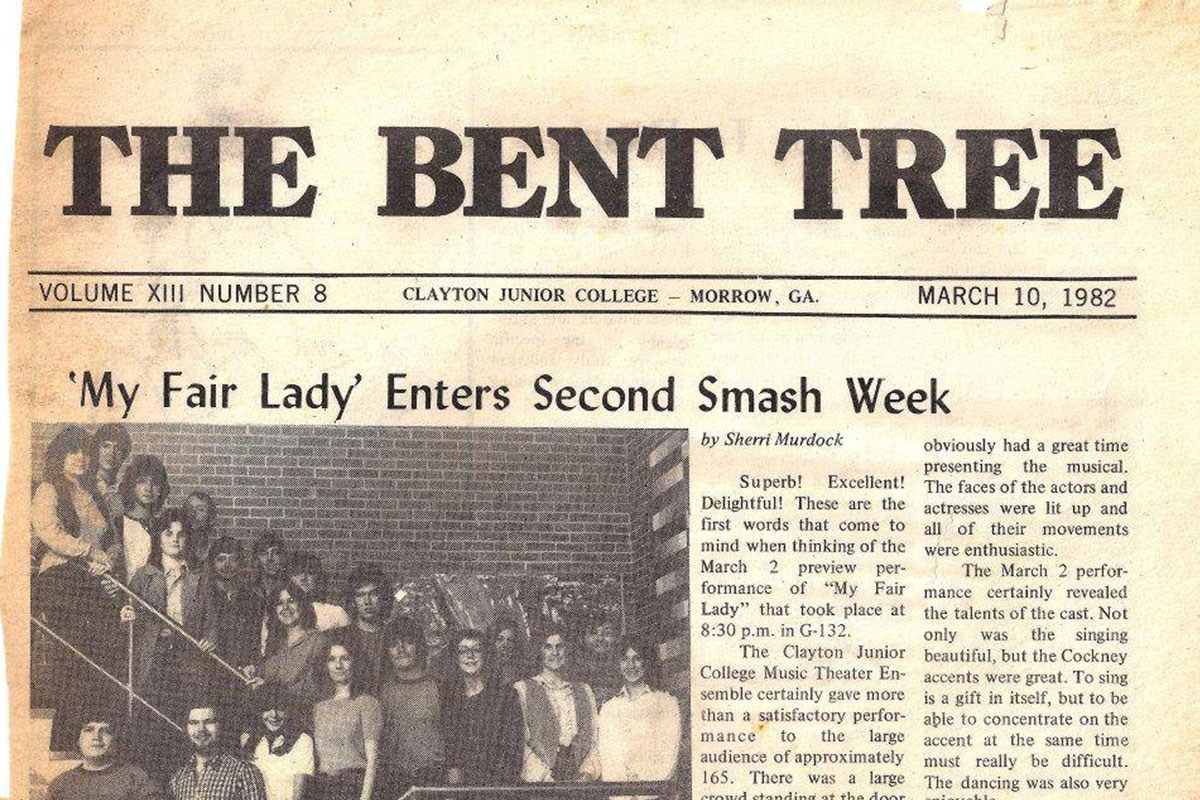 "I had a great time at Clayton State," Pike says. "It was a wonderful time in my life."
Her friend and fellow classmate, Jeff Pike, was to act alongside her as Freddy Eynsford-Hill. Much like Reeves-Gilmer, Pike had a strong musical upbringing. His mother, an exceptional musician, introduced Pike to music at an early age.
"I've always wanted to be a musician and I knew I was going to be one when I grew up," he
says.
Pike pursued a Bachelor's degree in Voice with a minor in Theatre. He began his college journey at Shorter College, but transferred to Clayton State to live closer to home. He immediately fell in love with the professors and curriculum.
"They furthered my interest in music and in theatre, too, which further cemented what I was going to do with the rest of my life," Pike states.
Clayton State's "My Fair Lady" was an instant success. Each evening's performance began with a full audience and concluded with a standing ovation.
Additionally, the cast and crew became more like family than peers and Reeves-Gilmer and Pike remain friends to this day.
"It was the comradery that I really enjoyed," Reeves-Gilmer states while smiling, "That was really nice."
After college, both Reeves-Gilmer and Pike established full time music careers.
Reeves-Gilmer is the lead singer of her band Snowwolfstix and started her own record label. She has written over 400 songs and has worked with musicians across the world, including renowned Italian pianist, Paolo Negri.
Pike is the founder and lead vocalist/guitarist for the A1A band. He has recorded seven albums of original music and has produced albums for Atlanta artists. He's been involved in many musical productions, including touring alongside country music singer, Jimmy Buffett.
Still, when they look back on the old-school newspaper clip documenting their performance in "My Fair Lady," they cannot help but remember, with joy, their time at Clayton State.
"I had a great time at Clayton State," Pike says. "It was a wonderful time in my life."
Read more stories from this issue