The Art of Nursing
Textbook helps nurses explore theory and patient care
For some, sitting down with a text heavy book trying to dive deep into multiple theories, learning their intricacies and how they apply to their educational and career path can be quite daunting.
Now imagine sitting down with a textbook that illuminates nursing theory with a bright imaginative artistic approach. Imagine the impact on a student receiving hands-on, creative instruction to understanding and applying such deep theory.
Clayton State's own Dr. Lisa Eichelberger, Dean of the College of Health, introduced this type of innovative teaching tool that makes nursing theory courses more interactive by incorporating various forms of art such as pointillism, origami and mandalas with the publication of Understanding the Work of Nurse Theorists: A Creative Beginning.
"There is no question this foundational textbook touches students. During these past twelve years, I have received so many emails and artwork illustrations from faculty and students telling me how the book has touched them or 'turned them on' to theory," says Eichelberger.
Nursing theory is the creative and rigorous structuring of ideas that project a tentative, purposeful, and systematic view of various aspects of the profession.
According to the text, theories help nurses expand their awareness of concepts never before considered and provide frameworks for understanding their role in patient care.
"Typically, students go into nursing because they want to 'do skills or tasks.' They get excited when they can become competent at performing tasks. They really don't get excited about learning esoteric theories. It is a rare student particularly at the undergraduate level who truly falls in love with nursing theory. That is why allowing them to use their creative ability to engage with theory increases the chance that they will find the experience more enjoyable and not dull and dry."
How it all began
Coauthored with Kathy Sitzman of East Carolina University, the textbook uses art to teach nurses the often-intimidating task of learning nineteen nursing theories. Eichelberger and Sitzman open a creative side to nursing theory - one that makes learning a little less difficult, and a lot more creative.
Many years ago, Dr. Eichelberger began managing a now popular international nursing theory website through which she met her coauthor, Sitzman. Her ultimate goal for the website is to help others interested in nursing theory have accessibility to research, synopsis, and reference materials.
"I was sitting in my faculty office in the old Business and Health Science Building (now know as the Natural and Behavioral Sciences Building) when the phone rang and it was Kathy Sitzman. She introduced herself as a teacher of nursing theory and a user of my theory website. She told me that she had an idea for a nursing textbook and wanted to see if I would like to work with her. You could say the rest is history! It all began from there. We actually began collaborating in about 2002 and did not meet in person until 2010 when our 2nd edition was published," says Eichelberger.
"Allowing them to use their creative ability to engage with theory increases the chance that they will find the experience more enjoyable and not dull and dry."
Throughout the textbook, the authors tie together creative concepts such as Mandala Art and Pointillism to nursing theories. The book is sectioned into six parts, with each starting with the introduction of envisioning theories through art followed by chapters on the nursing theories. At the end of each chapter the authors have outlined activities to use art, research and discussion to imaginatively engage the students to better retain the knowledge.
"The authors are able to present complex, abstract information in a way that makes 'theory' more accessible to students," says Dr. Jennell Charles, R.N. and associate professor in the School of Nursing.
"It provides an overview of the development and usefulness of theory to nursing practice and ties specific theoretical frameworks to practice and research activities. Students are able to gain an appreciation of the potential impact of theory on their own practice."
Theories with special meaning
Dr. Eichelberger shared which nursing theories have a special meaning to her personally.
"Roger's Theory is my personal nursing theory that I adopted during my doctoral study and it is what kept me in nursing. I was searching for something to challenge me and make me ponder the "why' and "what if" and the interconnectedness of time, life, space and oneness of humans and how we all relate to one another and how patients and nurse fit into that scheme. Roger's theory of Unitary Human Beings did that for me and I have used those concepts as a basis for my research and practice since that time," says Eichelberger.
For Roger's Theory, students often use the idea of space and orbs of light to creatively illustrate the theory's concepts.
One of the more recent theories added is the Meleis' Transitions Theory, which is the framework for the curriculum at Clayton State University. Meleis' and Eichelberger worked closely to write the chapter about the theory.
"We (Clayton State University) have served as a model for other schools in how to use the Transitions Model in curricula and Dr. Meleis, Dean Emeritus at University of Pennsylvania has become a good friend and colleague of mine," Eichelberger says.
Eichelberger says Meleis' theory is still being interpreted with artistic illustration. Like most nursing theories, Eichelberger says, each one is as different as nurses themselves. Many theories are focused on nursing practice, but as Eichelberger notes in her textbook, future ones could be developed to explore how nursing can be affected by social issues including the environment, health, religion and global poverty.
Deepening theoretical understanding through mandalas
Mandala art is a creative tool used to illustrate the concept of nursing theory. Mandalas have a centralized focal point with many surrounding points of interests.
This concept is much like many nursing theories. Using mandala art, students are encouraged to pull out the central idea and the supporting concepts. Students can then beautifully arrange these ideas artistically.
This allows students to deepen their understanding of theory through analysis and applying it to the deeply concentric form of mandala art.
Close up and distant perspective through pointillism
Pointillism art is used in to illustrate nursing theories that are considered philosophies, which reflect broad and multidimensional ideas of morality, ethical behaviors and professional experience. Pointillism art is created with many points of color that seemingly merge together when viewed.
Nurses often view the philosophical theories with a similar concept…they may have different impressions on the theory and often merge personal experience with the points of the theory.
Pointillism is used in a couple senses with the close up and far away view. Students similarly are asked to approach the idea in a close up view with listing the individual points or ideas of the theory.
After they have done this task, students approach the theory from a distance creating the overall idea and theory by creating the overall artistic representation using pointillism art.
Illustrating theory through origami
The art of origami is used to illustrate middle-range theories, which consist of specific actions, activities and processes for particular patients or types of care.
Middle-range theories often outline intentional actions such as the Theory of Comfort by Katherine Kolcaba that outlines specific activities to provide comfort to patients.
Origami illustrates that idea by using defined techniques for folding paper to create a heart, an airplane or a swan. Both middle-range theories and the art of origami are built on the premise of carefully outlined actions that lead to the desired outcome, i.e. the patient's comfort or a beautiful swan.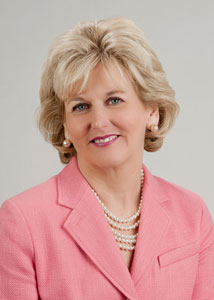 About the author
Dr. Lisa Eichelberger has worked at Clayton State for 20 years. 11 of those as Dean of the College of Health. Eichelberger received her B.S.N., M.S.N., Ph.D. degrees from the University of Alabama at Birmingham and previously served as the dean of Mississippi College School of Nursing from 1987 to 1995. Prior to serving as dean at Mississippi, she was the Assistant Dean of the School of Nursing at Auburn University and a faculty member at the University of Alabama and Auburn University.
Creative even outside of the classroom, Eichelberger enjoys French heirloom hand sewing, smocking, and watercolor painting.
Read more stories from this issue