Champions in the Classroom
Clayton State Athletics commitment to academic success paying dividends
It's very easy to point out the tremendous athletic accomplishments in the 26-year history of Clayton State Athletics. A total of 25 combined Peach Belt Conference regular season or tournament titles, 60 NCAA Division II Tournament appearances, 58 All-Americans and the 2011 women's basketball national championship.
However, what is sometimes overlooked in the world of college athletics is the academic component. Not so among the Lakers student-athletes and staff– who have made a commitment to true academic success, a plan to maintain it and a goal to surpass all previous expectations.
Since arriving on campus in August of 2014, Clayton State Director of Athletics Tim Duncan has placed a premium on the "student" part of student-athlete.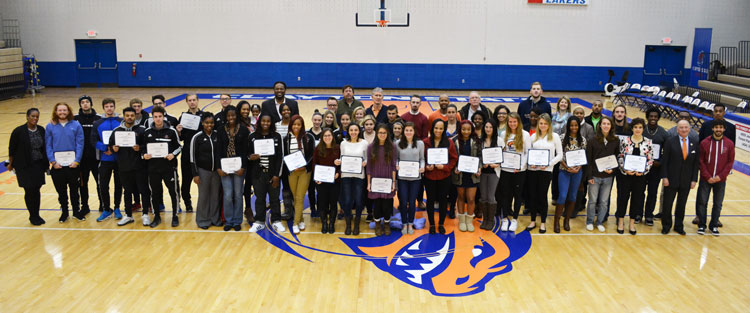 "The success of our student-athletes is a testament to the dedication of the coaches, staff and, of course, the students themselves," said Duncan.
"Each of those groups immediately bought into creating excellence in their academic pursuits. The one thing that I am most proud of is giving the students the recognition they deserve through the creation of the Wall of Champions, Breakfast of Champions, Academic Recognition Nights and the Scholar-Athlete Graduation Stoll program."
Chief among the mission of the student-athlete is to graduate and the Athletics Department mission goes hand-in-hand with that with the goal to "promote the education and development of students through intercollegiate participation."
One of the best methods employed to achieve both of those goals is the Academic Support Policy, which ties in with mandatory study hall requirements based upon a student-athletes GPA.
Guided by a goal of unwavering academic excellence, these two parts of the support structure empower student-athletes to take control of their educational experience and prepare them to achieve academic success at an institutional, regional and national level.
Each week student-athletes are required to complete a certain amount of supervised study hall hours based upon their cumulative GPA at Clayton State.
Designed to set aside an appropriate level of productive study time for those that need it, the program also rewards those individuals who achieve a 3.0 or better by not requiring any hours.
In less than two years, the level of academic success has been unprecedented in Clayton State Athletics history. In a four-semester span, a total of 53 current or former student-athletes have earned their degrees, including a department record 20 this past spring. Four of those achieved their Master's degree.
That's not the only record Laker student-athletes have set during that time either. Consisting of 140 individuals from 12 teams, a program record of 75 achieved a 3.0 GPA or better in the Fall of 2015 and were recognized at the Breakfast of Champions. The third semester of the event, a total of 184 student-athletes have met or surpassed that mark, including a then record 67 in Fall 2014.
Laker academic recognition has not been constrained to on campus either. In just two years, 45 student-athletes have been named to the Peach Belt Conference All-Academic Team for their respective sports, with 20 in 2014-15 and an increase to 25 in 2015-16.
Along with that are 85 individuals that have earned PBC Presidential Honor Roll recognition. Perhaps the most impressive academic accolades have come at the national level. Graduate student Maia Kuhnen (Trier, Germany) is a two-time College Sports Information Directors of America (CoSIDA) Academic All-District selection in cross country/track & field and was joined by teammate Darina Drozdova this past spring. Men's soccer's Aleksi Tuominen (Helsinki, Finland) was also named Academic All-District this past fall.
Topping the list of academic accomplishments is women's soccer student-athlete Maria Marti Bartis (Girona, Spain), who in the Fall of 2015 became just the second CoSIDA Academic All-American in program history and the first ever First-Team selection.
Prior to 2015, there had only been two Lakers to even earn Academic All District recognition. Not only is Clayton State Athletics committed to the responsibility of preparing our student-athletes to succeed in the classroom, this run of impressive academic accomplishments are a testament to the fact that the most important individuals – the student-athletes themselves - have bought in and are beginning to reap the rewards.
Read more stories from this issue
Maria Marti Bartis
Maria Marti Bartis accomplished something no other individual in program history has as she was named a CoSIDA Academic All-America First-Team selection following an incredible season on the field and in the classroom.
She is just one of 11 Division II women's soccer student-athletes to earn First-Team honors and just the second individual in the 26-year history of Clayton State Athletics to earn Academic All-America honors. She joins cross country/track and field student-athlete Robert Spezzacatena, who was a Third-Team choice in 2012.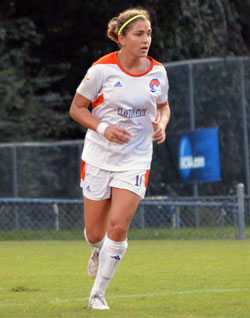 Marti Bartis excelled both academically and athletically in 2015, posting a perfect 4.0 GPA while pursuing a Masters in Health Administration and being one of the top goal scoring threats in the Southeast Region.
This year she was named to the All-Peach Belt Conference First-Team and was twice the league's Player of the Week after driving home 11 goals and finishing with 25 points. Four of those goals were also game-winners, which ranked 50th in the country.
On the year, Marti Bartis scored in 10-of-18 games, including six straight from September 11-30. Highlighting that run was a goal and an assist on the game winner in a 2-1 overtime victory over No. 3 North Georgia on October 14. She was also named to the PBC All-Academic Team for a second consecutive year.