Tokyo Bound
Fall 2020 | By Chuck Tidmore
Clayton State head track and field coach and five-time Olympian holds out for a future run at a postponed Olympics
Chris "Fireman" Brown experienced mixed feelings after hearing the news on March 24: The 2020 Olympic Games had been postponed. There was relief and disappointment.
The five-time Olympian was looking to compete in his final Olympics and end an historic career on his terms.
"It was a good and bad thing," Brown said. "The good thing for me was that I had more time to prepare, but the bad thing was, I just wanted to be done with it. I wanted to say I had finished six Olympic Games and let it be out of my system, completely."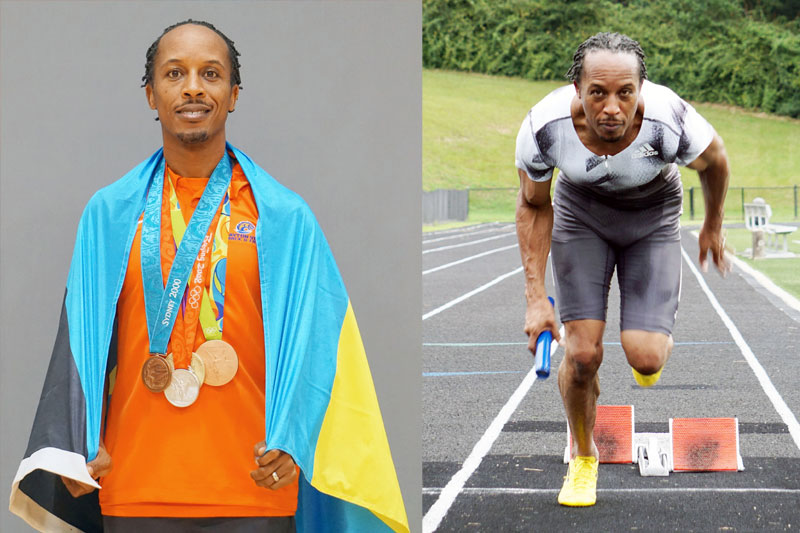 Figuring out what to do next wasn't hard for Brown. As the world dealt with the sudden outbreak, Brown continued to approach life with his same mindset.
"I just basically decided to continue to take it one day at a time," said Brown. "It was disappointing that the games didn't happen, but that's life. I took it as another step and used it as a positive. I need to be 100% fully committed if I'm going to prepare for the games."
It's the same attitude he displays toward the student-athletes that look for his guidance on the track.
In July 2019, Brown was named the head coach for Clayton State's track & field program after serving as an assistant for one year prior.
After a successful indoor season, in which two athletes were named All-Region, the Lakers were gearing up for what was supposed to be an eventful outdoor campaign. Clayton State had entered one outdoor event before the season was shut down.
"It was a disappointment for everyone," Brown said. "We had just finished our first meet and students were on spring break. They were looking forward to the outdoor season and wanted to show how good they really are. And they didn't get to do that, so it was a huge disappointment."
While no one could have predicted the cancellation of the 2020 season, Brown had been preparing his athletes to race each race as if it were their last.
"I preach to the kids that you have to be ready for anything. Don't take anything for granted. Always compete and train as if this is your last day competing." – Chris Brown, head track and field coach
"One thing I can say is that, mentally, we prepared them for anything," said Brown. "I preach to the kids that you have to be ready for anything. Don't take anything for granted. Always compete and train as if this is your last day competing. I think that prepared them mentally.
"They were disappointed, but their spirits were still up, because we already mentally prepared them. Hopefully, they get to come back twice as hungry and show and prove that they are a championship team. I just want to see how I can help them reach the best of their ability."
Now, more than ever, Brown remembers to practice what he preaches as a coach. Just as he constantly tells his athletes to have clear minds on the blocks, Brown makes sure he is doing the same as he approaches his final Olympics.
"One thing I've learned in track & field is when you reach the top, there's nowhere else to go but down," Brown said. "You can stay there as long as you want and be consistent, but at the end of day, after the top is coming back down.
"My last race I ran at home, I was contemplating between shutting it down and continuing to train. I didn't like my performance. I didn't like it because that's not my style. I don't train to give fifty percent and I felt like my performance was fifty percent. So, I have to still bring that fire I brought from day one."
With age creeping in, a head coach position and a pandemic affecting his training and career, Brown has used this extra time to properly train his body.
"The delay has helped me get a schedule and a routine going so I can adjust to it and then my body will know what to do," said Brown.
"My body needed to rest over the last two years, but it was starting to look for that competition. It was basically just starting to build a foundation again for this year, which didn't happen. But at least it's on a schedule to prepare."
A veteran of the Olympics, Brown can rely on his experience to train himself and set his benchmarks. But as he turns 42 in fall 2020, he is learning the importance of saving his body.
"I'm laying the foundation myself because I know what I need to do and what to look for," said Brown. "By January, I should be in indoor shape and would like to get a race in, whether that's a 200m or a 400m. That way I can see what kind of times I run and where I'm at before I step on the track for outdoors."
"I have no intentions of doing a full season of running the 400m, but I do have to compete to get on my team. I have to race sharp and be mentally sharp because my teammates aren't just showing up to get a lane, they're coming to run."
Time off from coaching, training and competing means more time with family. Brown has enjoyed this extra time to spend with his wife and three children, ages 10, eight and four and while COVID-19 has changed daily life, everyone appreciates each other's company.
"The kids are excited, they're happy," said Brown. "In their eyes it's just more time to spend with daddy. It's fun. I'm getting to watch them grow every step of the way from birth to now."
The quarter-mile runner is one of the most famous athletes to come from the Bahamas and has the medals and background to silence any doubters.
A four-time Olympic medalist, his accolades span from the World Championships to the Pan American Games. The peak of Brown's professional career came in 2012, where he helped capture the Bahamas' first ever men's Olympic gold medal.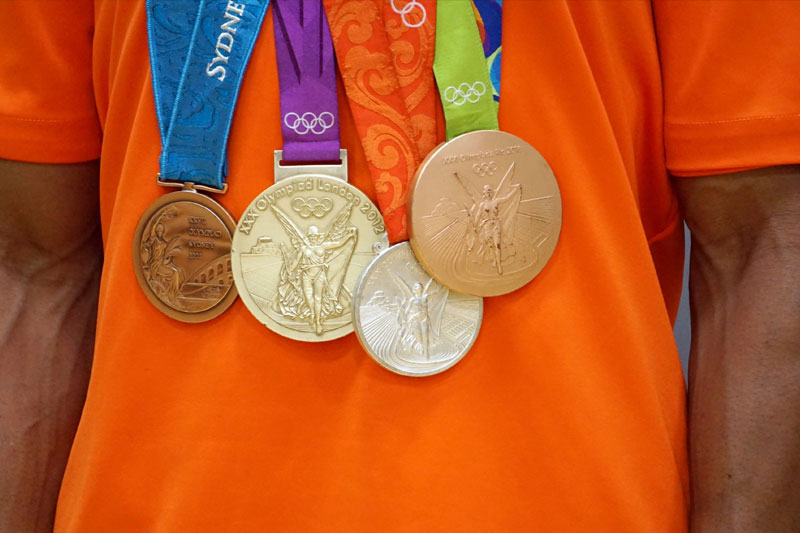 The squad of Brown, Demetrius Pinder, Michael Mathieu and Ramon Miller teamed up and took down the United States with a time of 2:56.72 in the 4x400m relay. The 2012 loss was one of seven times the USA failed to capture the 4x400m relay gold since 1912. Following the games, the quartet of Bahamians were dubbed "The Golden Knights."
At the opening ceremonies for the 2012 London Games, Brown served as the nation's flag bearer and was the first male to do so for the Bahamas since the 1996 games.
No one knows what the future will hold, but for Chris "Fireman" Brown, he'll take each day at a time so when it's time to run, he'll be ready to come off the blocks.
Related Stories
Hidden histories
By Kelly Petty
As a doctoral student at Florida State University 10 years ago, Dr. Aisha Johnson-Jones made a spectacular discovery as she sought to work on her dissertation about African American history.
---
Senior Year in The Time of Coronavirus
By Alisha Hamilton
On May 9, 2020, I woke up bright and early. I got fully dressed in my cap and gown to join my immediate family on the sofa as we watched the live broadcast Clayton State University prepared for the graduates.
---
CAMPUS NEWS
University Happenings: Campus News
Film Roundup: Rolling. Action! News
Staff Notable: The Book Keeper