Laker Village
Laker Village is specially designed for upperclassmen seeking comfortable apartment-style accommodations that offer convenient access to the University. Apartments in the 100, 200, 400 - 900, 4000 and 5000 offer extra long (80") twin beds. Apartments in 1000, 2000 and 3000 offer extra long (80") full beds.
Floorplans
Laker Village offers three floor plans to choose from: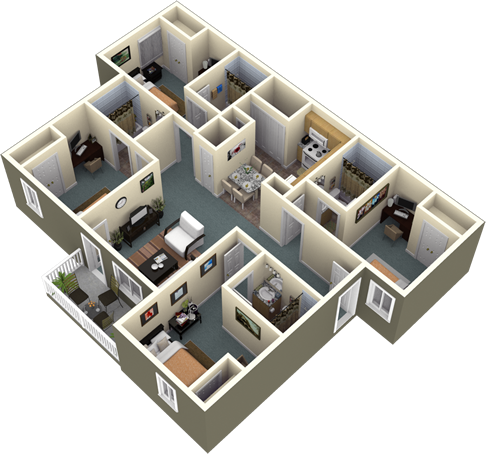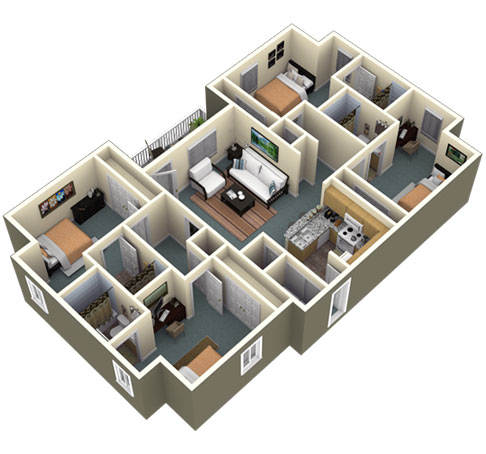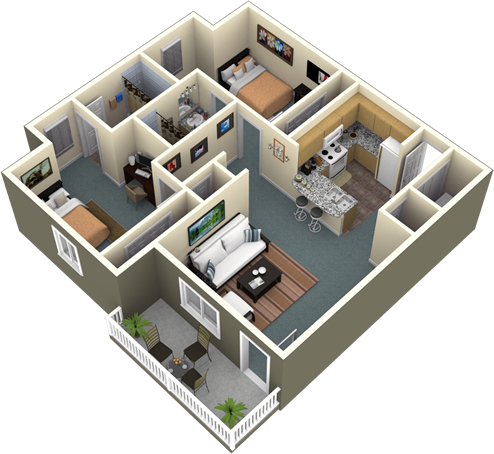 Virtual Tour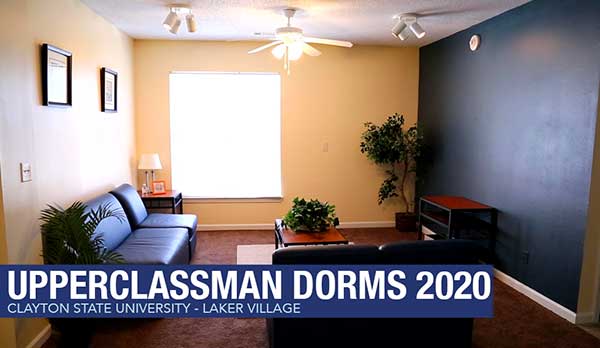 Amenities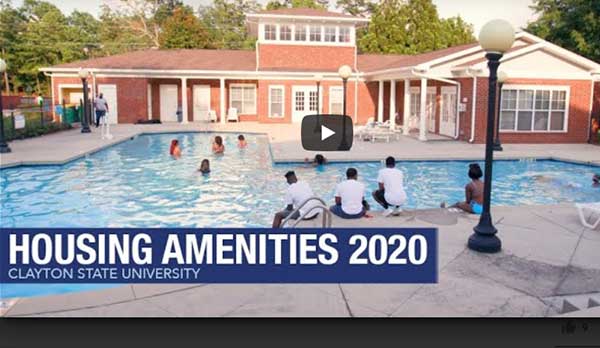 Laker Village offers several amenities for residents, including:
Unit Amenities
Stylish living room set, bedroom furniture, and built-in dining table are included in your apartment.
Full-size refrigerator, stove, oven, microwave, and dishwasher are included in your apartment.
Full-size washer and dryer in every apartment unit.
Electric, water, and refuse utilities included and over 60 TV channels available in each living room and bedroom.
Community Amenities
Our skilled and friendly maintenance staff is on call for emergencies 24/7.
Serving our residents and community.
Plenty of resident parking and designated guest parking.
Located throughout the community to share fun times.
Theme Communities
Laker Village offers TWO theme communities for residents who seek to surround themselves with peers who share similar values.
STEM Community — The STEM Community is for students interested in majors related to Science, Technology, Engineering, Mathematics and Medicine.
Sophomore Year Experience Community — Will you be a second year student next year? Consider moving to the Second Year Experience Community. This community will focus on the unique needs and interest of sophomores. Being a part of SYE will offer you opportunities to make meaningful connections with other second year students.
Costs
Laker Village Apartment rates for 2020-2021
Contract Length* / Payments
Floor Plan Types and Rates**
Contract Period
(# of payments)
XL twin beds (4 students)
4 bedroom/4 bath Full best (4 students)
2 Bedroom / 2 Bath (2 students) (limited availability)
Summer contract (mid May - end July)
Semester (1)
$1660
N/A
N/A
Fall/Spring contract (mid August - mid May)
Semester (2)
$3452 / $3452
$3577/$3577
$3921 / $3921
*Fall Only / Spring Only contracts are available upon request through the University Housing Office. **Rates are Per Person
Semester rates for housing at Laker Village include:
Individual contract for each resident
Fully furnished with bed, dresser, built-in desk and desk chair, ceiling fan, couch, chair, coffee and end table, and breakfast bar seating
Wireless internet, CSUsecure) on property
xFinity On Campus access
All utilities and cable TV
Full kitchen with stove, refrigerator, dishwasher, and microwave
Full-size washer and dryer in each unit
Private bathroom in each bedroom
Electronic entry door locks and private bedroom locks
University Housing and Residence Life
Business Mailing Address
2000 Clayton State Boulevard
Morrow, GA 30260

Resident Mailing Address
YOUR NAME
Clayton State University
5809 North Lake Drive, Box xxx
Morrow, GA 30260
Phone:
(678) 466-HOME (4663)
Fax:
(770) 961-3735
Email Address:
housing@clayton.edu
Laker Hall Desk/Housing After-Hours Emergency Phone Number:
(678) 466-5130
Facilities Management:
Submit a maintenance request
7:30 a.m. - 4:30 p.m.
(678) 466-4664