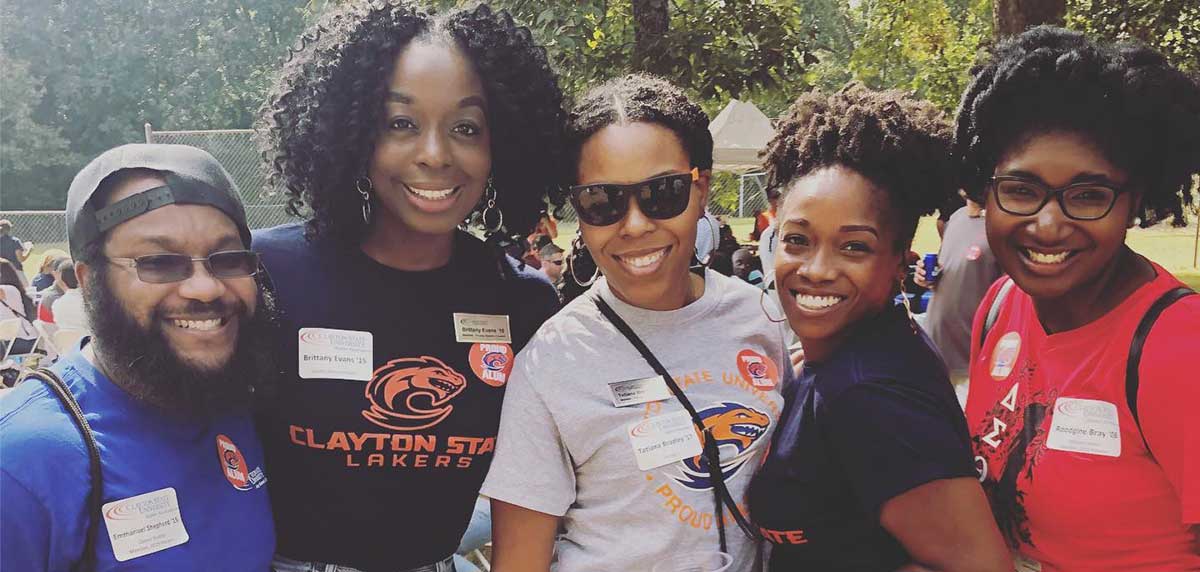 2022 Alumni Week
Clayton State University's Alumni Week is a time where the entire Laker community comes together to celebrate the importance of our alumni.
See our list of events below, highlighted by a community service project, an alumni social, and our annual family-friendly LakerFest.
Saturday, September 24
9:00 a.m. - Alumni Week Service Project
**This event has sold out**
The Alumni Association has partnered with the Southern Crescent Habitat for Humanity to participate in a build project in Jonesboro.
Learn more about the event and sign up. We are also seeking donations to help support this great initiative. You can do so using the same link used to sign up to volunteer.
All Week (Monday, September 26 - Saturday, October 1)
Social Media Takeover
Alright, alumni, now is the time to show us how you've grown up! Picking up from last year's social media takeover of #ClaytonStateWhen, use #ClaytonStateWhenAndNow with a picture of you as a student and then one of you in your current professional environment. We can't wait to "swipe left" on Instagram and see these pictures. You can also tag us at @claytonstatealumni.
Tuesday, September 27
3:30 p.m. - Alumni Faculty/Staff Reception
***This event is strictly for alumni who are currently members of the faculty or staff of Clayton State
Registration will be made available via invitation.
Wednesday, September 28
6:30 p.m. - What's Going On: A Presidential Conversation
Want to know more about the Alumni Association? Interested in how to be more involved? Unsure of what events are upcoming?
Then join us for a live address by Dr. Lisa Conley '02, President of the Alumni Association, and a panel and Q&A with former Alumni Association President Crystal Billingslea '11 and President-Elect Joseph Echols '06 '11.
Thursday, September 29
6:00 p.m. - MBA Alumni Social Event
Location: PURE Zen Mimosa Wine Bar, McDonough
Our latest MBA alumni social event will be taking place at Clayton State MBA alumnae-owned PURE Zen. All Clayton MBA alumni are invited to join us for an evening of fun, food, and networking!
Registration is $15 and includes food.
Friday, September 30
9:00 a.m. - Athletics Golf Tournament
More information and registration link
*RESCHEDULED* Saturday, October 8
11:30 a.m. - Alumni Week LakerFest
Location: Clayton State Soccer Field
This annual tradition brings together alumni of all ages and from across the decades. There will be food, drinks, music, kids activities, games, and giveaways. There is no cost to this event, but donations are greatly appreciated.
You will also want to come out and spend time with faculty and staff from the different colleges. They will be hosting reunions across LakerFest.
Register to attend LakerFest today!
This event will also include alumni-owned business vendors. If you are a Clayton State alum and own a business, you can register to become a vendor.
3:00 p.m. - Men's Soccer Match vs. Flagler College
Tickets may be purchased at the gate