Nicholas Collins: Leading the way for others
(December 4, 2018) - If you've ever walked through the James M. Baker University Center on campus, you've probably ran into Nicholas Collins. With his friendly disposition, there's never a moment Nicholas doesn't run into a familiar friend or greet a new person.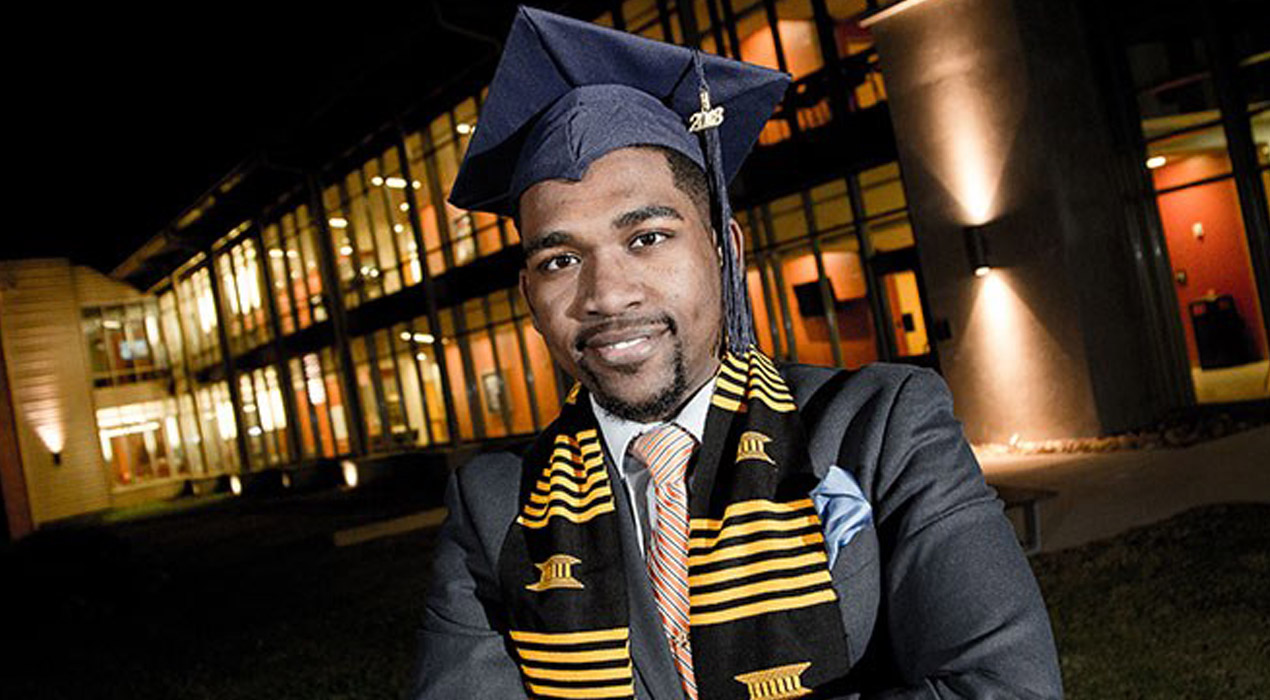 The 22-year-old Stone Mountain, Georgia native attributes his outgoing personality to his drive to be successful and lead by example for others.
"I am first-generation, minority male college student and when I think about the challenges from my personal experiences, I think about all of the ways that I showed a great deal of resilience, tenacity, and grit throughout this journey. There were times I wanted to give up, but I didn't," Nicholas says. "To whom much is given, much is required, and I believe that I have been given an incredible story to serve as an inspiration to other people. It's hearing how I have encouraged people, how I have motivated people, how I have helped to transform people that has kept me going."
Nicholas academic prowess is what earned him a place at Clayton State University. He was one of the top students in his class at his high school, but by senior year, he hadn't been granted any offers for a full ride scholarship to any of the schools he applied to.
But Clayton State's admissions team saw his potential.
"Alton Walker, who was an alumnus of my high school and an admissions recruiter at the time made one phone call that led to me being able to apply for the Presidential Scholarship and now I am here, a few weeks out from graduation," Nicholas says.
At Clayton State, Nicholas made academics as much a priority as extracurricular activities. With the support of professors like Dr. Jacqueline Jordan, Dr. J. Yvette Gardner, Dr. Michelle Furlong, and Ms. Renee McFarlane, Nicholas says he pushed himself academically to achieve his goal of graduating with a bachelor's in biology.
"Without them, I am not sure that I would be walking across that stage on December 8th and they truly made all the difference," he says.
As a student leader, Nicholas sought to be highly engaged on campus by becoming a member of the Tau Epsilon Chapter of Alpha Phi Alpha Fraternity, Inc., as well as having the opportunity to develop the Freshmen Leadership and Involvement Program under the advisement of Dr. Natasha Hutson and the Department of Campus Life.
One of his other most memorable moments as a student leader was visiting Memphis, Tennessee with a group of other students affectionately called "The Crew" by advisor Dr. Lakeisa Cantey Rawlinson.
Nicholas says being an active student on campus is essential to the growth of the university.
"In order to be successful in this journey of pursuing a degree, involvement is truly not an option. It is the non-academic, co-curricular activities that make the work done inside of the classroom practical and meaningful," he says. "Students have to be engaged in order to develop a sense of pride for their institution. This will cause the campus climate and culture to boost tremendously and bring bright new faces to Clayton State."
Like many students, Nicholas says the first thing he plans to do after graduation is get some much-needed rest. But he also has his sights on earning a graduate degree to fulfill his desire to work in higher education.
"Nowadays, I tell people that I have been "bit by the bug" and that is the Student Affairs and Higher Education bug…my goal is to pursue a Master's in Higher Education and College Student Personnel (Student Affairs) to reach my next goal of becoming a Student Affairs practitioner and working my way to University President," Nicholas says.
Nicholas says his advice for other students who may be facing challenges is simple.
"Life neither stops nor slows down and this road only gets tougher, but every step you are able to take is worth it," he says. "You have to get up and keep going. Discover what moves you, have a balanced lifestyle and press on. Dreams only come to those who are sleeping. Wake up and get to it!"