Michelle Melton named Women In Technology Campus Student of the Year
(December 14, 2020) -When Michelle Melton was working in film and television in Los Angeles, she found herself at the center of both the entertainment and tech industries. It was there, that she got bitten by the tech bug.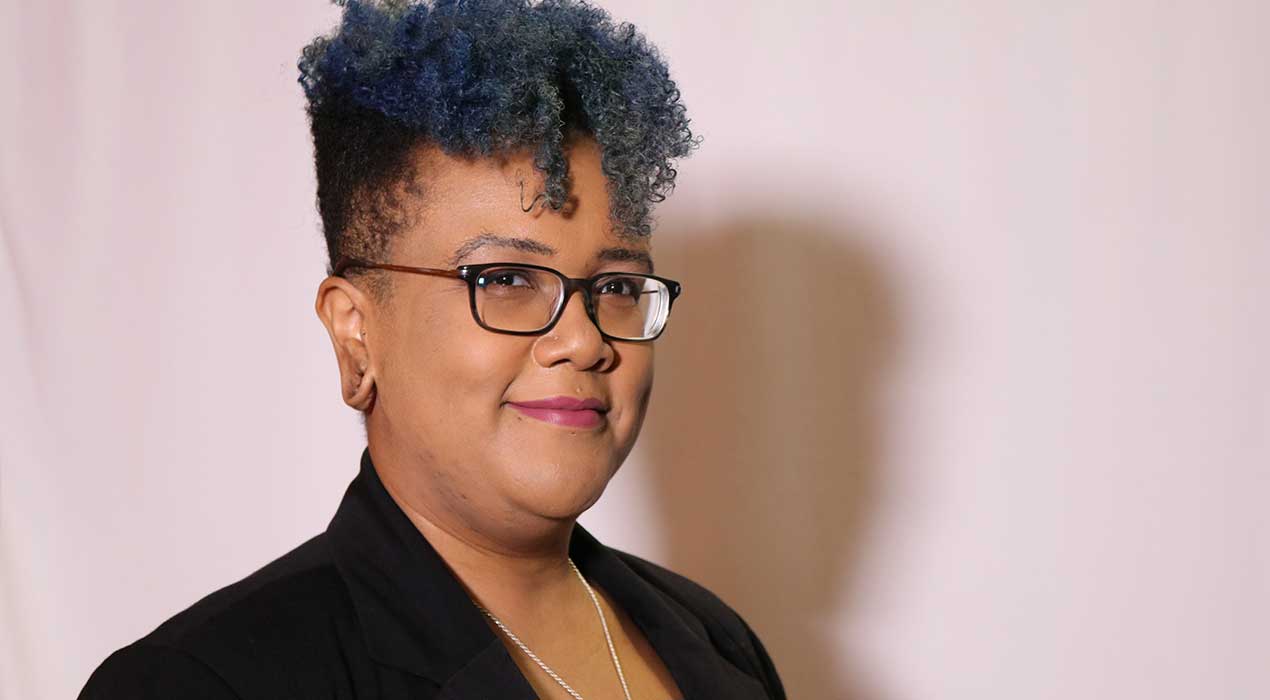 "Netflix, Facebook, Blizzard, SpaceX, JPL, and Activision were close to a lot of companies that I worked for, so I started networking with the people who worked there," Melton says. "That led to me start playing with the tech they were using on a day-to-day basis, and it felt like an effortless transition."
That decision to pursue a degree in computer science at Clayton State, paid off for the senior. Melton, 37, was one of 11 honorees for the 2020 Woman of the Year Steam Awards presented by Women In Technology, an organization focused on empowering girls and women in Georgia about opportunities and advancement in science, technology, engineering, arts and math (STEAM).
Melton was named Campus Student of the Year. As a winner, Melton receives a $10,000 scholarship and a laptop.
"I was speechless, full of joy, but definitely taken aback at the fact that I won. I feel most comfortable working behind the scenes so getting public recognition even at this level is taking some getting used to," Melton says. "However, it's worth it if I can motivate others to pursue their passions."
At a time when more women and people of color are moving into the tech space, Melton says the time is now for more diverse voices to come into the field and transform it.
"Technology is shaping the future, and in order for that future to have a positive impact for everyone more than one voice has to be heard," Melton says. "I've felt even stronger about this after the recent firing of Timnit Gebru who was one of Google's lead Ethical AI researchers. We must be present so that we can speak up and advocate for marginalized communities and shed light on the negative effects that some technology can be used for."
A 2018 study by McKinsey & Company found that profitability was 21% better on average with gender diversity and 33% when ethnic diversity was accounted for, Melton notes. Yet, the Kauffman Center for Entrepreneurship reported that in 2016 1% of venture capital dollars went to African American and Latino tech founders, and less than 2% went to women.
"There are so many great products and companies out there that should be thriving but are dying before they see the light of day because of bias," she says."
To make her mark on the industry she has come to love, Melton plans to pursue graduate school after she graduates in the spring. Her goal is to earn a PhD in Robotics with an emphasis on Human-Robot Interaction.
To the women and girls that are coming up behind her, Melton advises them to completely engage in any aspect of the tech field that interests them. Network attend free seminars and take online classes. Build projects while learning more complex concepts. Put in the work.
"Atlanta has a thriving tech ecosystem that everyone should plug into, and there's no time like the present."