History professor pens new book about role of HBCUs in fight for freedom for African Americans
(December 25, 2018) - Before Thurgood Marshall worked to overturn segregation in public schools, and Alice Walker penned a Pulitzer Prize-winning novel, and Dr. Martin Luther King Jr. led a wave of racial and political change in the nation, they were students discovering their purpose at colleges and universities that were incubators for emerging Black thought and political resistance.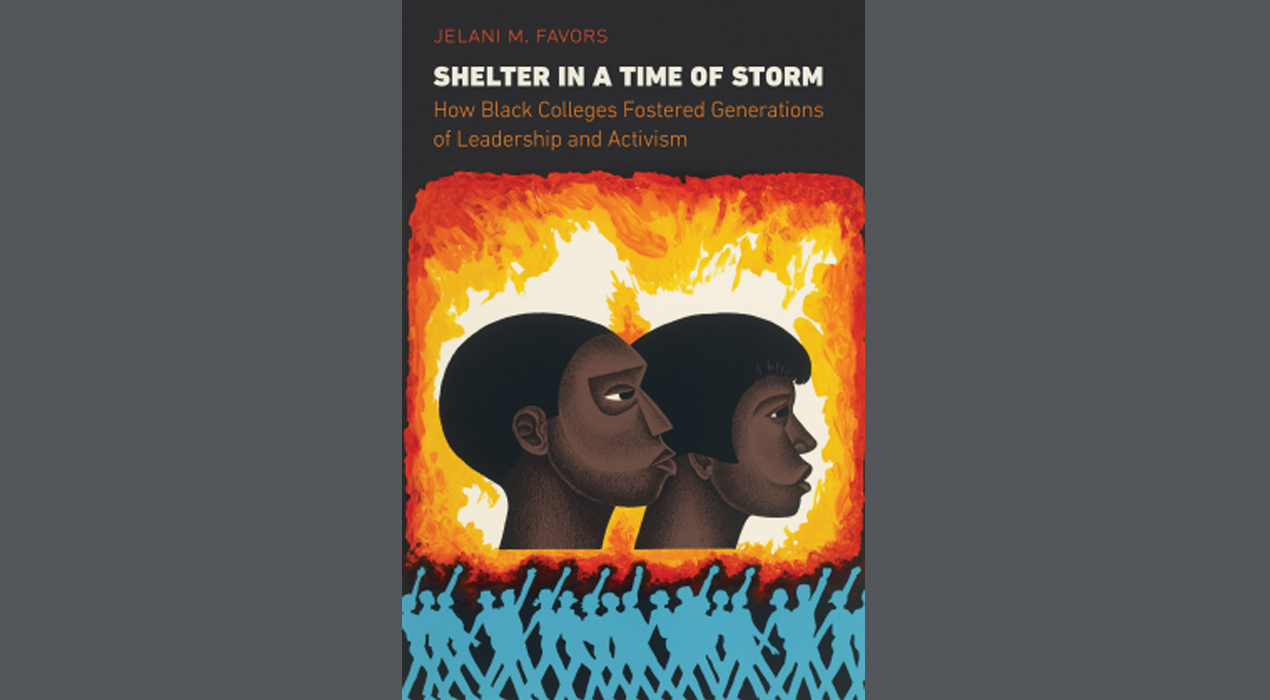 A new book by Clayton State University history professor Dr. Jelani Favors explores the significance of historically Black colleges and universities, commonly known as HBCUs, and the efforts of students to fight for freedom and justice in America.
Entitled "Shelter in a Time of Storm," the book examines how historically Black colleges and universities served as incubators of activism and ultimately produced the foot soldiers of the modern civil rights movement that transformed the social and political landscape of America.
"I was raised a preacher's kid in the A.M.E. Zion church, so when I was searching for a title that adequately described how Black colleges served as nurturing environments since their inceptions and guarded the self-esteem of African American youth from the hostilities of Jim Crow, I turned to the title of an old gospel song," Favors says. "I discuss the history of seven different HBCUs beginning with the founding of the first in 1837 and ending with a contemporary discussion of the challenges that currently confront these institutions."
Favors researched the formation of Black colleges dating back to the 19th century. Post-slavery, these schools offered the only educational options for many years for African American students who did not have access to or faced hostile environments at many predominately white institutions (PWIs) mainly in the segregated south and in some other parts of the country.
Favors says these HBCUs embraced the collective conscious of Black America at that time, thus being more equipped to spark political change in that era.
"Black colleges not only provided a counter-narrative to the white supremacy that ran rampant throughout American popular culture and defined public policy in the 19th and 20th centuries, but they also encouraged Black students to resist these hostile policies and to engage in various acts of overt and covert dissent," Favor notes.
Committed to a mission of creating a Black educated class, HBCUs focused on providing coursework and study in areas outside of the typical disciplines that were similarly taught at PWIs.
Students learned to build their own businesses, organizations, and institutions, and develop ideas that promoted freedom and justice for all Americans, combating against the pervasive Jim Crow laws that deeply limited the social and economic opportunities for African Americans across the country.
Favors calls this the "second curriculum."
"It was essentially comprised of three essential principals: race consciousness, idealism, and cultural nationalism," Favors says. "As generations of Black students were exposed to the second curriculum, they departed HBCUs ready to take on racism and intolerance throughout America."
This shift among Black youth who were ignited with a fervor for drastically changing the outlook for African-Americans in the U.S. could be seen well-before the highly-documented sit-ins and student activism of the 1960s.
In his book, Favors points to a boycott launched in 1937 by the women at Bennett College, a single sex HBCU located in Greensboro, North Carolina. The students boycotted a local movie theater in the city for censoring and cutting out scenes that depicted Blacks in relatively dignified roles.
"The protest forced the movie theater to revise their policy and placed people in that city on notice that Black colleges could be formidable hubs of dissent," Favors says. "Twenty-three years later, students exploded on the scene in Greensboro with the sit-ins, but the seeds of that historical moment were planted with small acts of courage such as the theater boycott."
In spite of the illustrious history and impact of HBCUs on America's social, political, and cultural landscape, much has been said in recent years about the necessity for these historical Black institutions. Both public and private institutions that previously denied African American students more than 50 years ago, are now making it a priority to increase diversity at their institutions.
Yet, Favors says that Black and other students of color continue to experience increased macro and micro acts of aggression and racial hostilities on these campuses.
He argues that the value of Black colleges becomes relevant in providing safe spaces for students to learn, in addition to still leading the way in supporting and graduating first generation college students, placing a large portion of their graduates in professional and graduate schools, and creating a new generation of community leaders.
"Simply increasing the number of minority students that you serve doesn't address an atmosphere of intolerance and hate," Favors says. "Black colleges certainly have their challenges and are by no means utopias. But they have been cornerstones of the Black American experience and have shaped American democracy in a vitally important way. In my estimation, we need them now more than ever."
View a trailer for the book, Shelter in a Time of Storm, published by the University of North Carolina Press. Purchase the book at the UNC Press website.