Class of 2019: Your journey is just beginning
(May 7, 2019) - The class of 2019 was fired up on Saturday as hundreds of seniors took the stage to earn their degrees and begin a new chapter in their lives. Family and friends packed the Athletics Center for the morning and noon commencement ceremonies on May 4 to celebrate students graduating from all four of Clayton State University's colleges.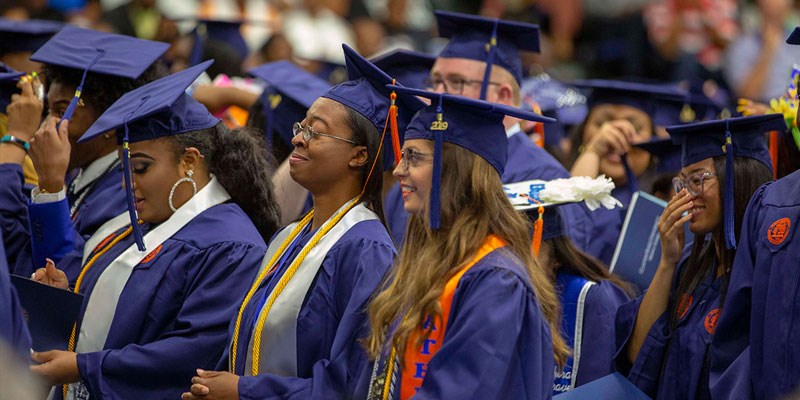 "This is a day for extraordinary celebration," said Dr. Hynes, president of Clayton State University.
In the morning ceremony, students heard inspiring words from Dr. Deborah Armstrong, Chief Executive Officer of Piedmont Henry Hospital. Armstrong shared that she learned early on in her career as a physical therapist that she needed to figure out what it would take for her to accomplish her goals.
"What was most important to me is to take a look in the mirror," she said. "I decided some point along the way to be an owner, to take personal responsibility for the part I play. I decided to take initiative to create the environment that I wanted to work in."
Armstrong challenged graduating students to make meaningful connections with their peers, be prepared and have a positive attitude.
"Find opportunities and, more importantly, bring solutions. Use your voice and bring value to what you do."
Students in the morning ceremony also heard from a fellow graduate, Christina Day. Day, who graduated with a degree in Health and Fitness Management, told students that their unique differences and perspectives can help them overcome personal challenges to succeed.
"You are not too sick, too old, feminine or masculine, too busy, too young, too rich or poor to strive for your dreams," Day said. "Let this be a stepping tone to catapult you out into the world empowered with knowledge to make a positive impact all around you."
At the noon ceremony, Victoria Storey, a psychology graduate, told the class of 2019 that Clayton State has prepared them to serve as global community leaders.
"We entered classes as nontraditional students or traditional students; however, we are leaving with a stronger foundation," Storey said. "You have proven you can stand a test or a trial. Congratulations to us."
Broadcast veteran and current WABE Morning Edition host Lisa Rayam connected with students with a nod to the late rapper Nipsey Hussle's mixtape, The Marathon Continues.
"Your journey is just beginning; your peak may be a long time coming," Rayam said. "[A degree] guarantees that you are prepared to stand up and be counted."
Rayam encouraged students to go beyond just earning a degree and tell the rest of their story. She challenged them to push through setbacks and frustrations to succeed in making impact in the world.
All of you mighty, mighty Lakers out there, job well done," You're prepared. Stay the course."