Alumni Day of Service a success
(November 13, 2019) - Over 20 alumni came together on Saturday, November 9 at the Atlanta Community Food Bank (ACFB) to go through donated items and prepare them for distribution to local food banks and families in need. Several of these alumni, as well as some alumni who were not able to attend, also brought food items for the ACFB.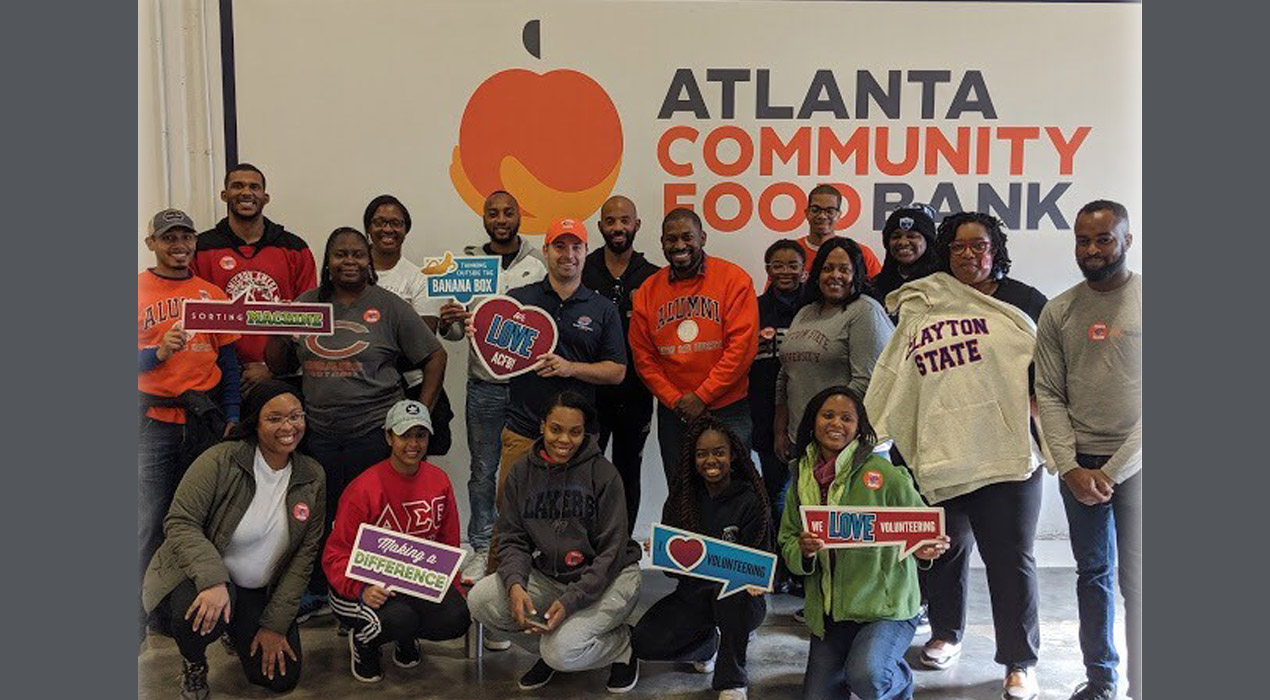 After a brief introduction to the items the ACFB can keep and those that have to be discarded—and some coffee and hot chocolate on the cold morning—alumni volunteers streamed into the Product Rescue Center warehouse where they were then split into teams with various tasks, including unloading the donated items from large boxes, inspecting the items to ensure they could be used, and re-packaged into smaller delivery boxes.
Volunteering from approximately 9:30 a.m. to 12:00 p.m., you could feel the energy around the warehouse. Music was playing and alumni were connecting and networking. In a single morning, Clayton State alumni sorted 7,291 pounds of food and created 5,352 meals for the local Atlanta community. This food will go to help the nearly 1 in 5 children and 1 in 10 senior citizens in Georgia who are food insecure, meaning they do not know from where their next meal will come.
Brian Leslie '12 noted that community service was something in which he had been wanting to see the Alumni Association be more involved, "Being able to help the community while having fun with alumni was amazing. It feels great knowing we're making a difference."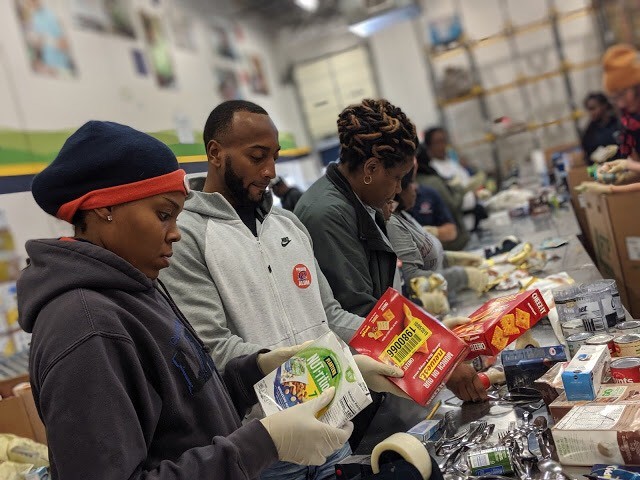 The ACFB volunteer director explained that while all donations are extremely appreciated, what they need most is volunteers to help get those donations out the door to those in need.
Tatiana Bradley '17, who also serves on the Clayton State Young Alumni Council, specifically highlighted the effect of the volunteers' service, "I'm glad I got the chance to experience a community service event that was impactful and meaningful on a variety of levels and to provide a needed service to a community in my backyard."
With over 20,000 alumni living in the Atlanta metro area, it became quickly apparent to the volunteers the impact that Clayton State alumni can have.
"It was great working with and seeing the fellow alumni member!" said Jameson Mason '12. "But most importantly, I enjoyed the service and ultimately the impact we had on the area. After being told the amount of food we sorted through and the families we fed, I was ecstatic and excited about the work done!"
Kandis Webb '06 elaborated, "Serving with Clayton State alumni at the Atlanta Community Food Bank was humbling and fulfilling. We learned a lot about the organization, hunger/food insecurity, and I was reacquainted with former classmates."
It wasn't just local alumni who came out to volunteer. Cierra Patterson '17 was in town from Charlotte, North Carolina and felt it was important as a member of the Alumni Association to come out and help.
"It was more than rewarding to be able to reunite with my fellow Clayton State alumni to give back to our community," Patterson stated. Adding on to Mason's comments, "It was also extremely enlightening to see how much of a difference a little bit of our time and a helping hand can make for those in need."
The next alumni service project will be announced soon. To keep up with you future alumni activities, you can visit http://www.clayton.edu/alumni or become an active member of the Alumni Association.