MBA students deliver more than 200 books to children in Jamaica
(March 19, 2019) - A group of MBA students went beyond studying business principles to engaging in community outreach during their study abroad experience. Led by Dr. Alphonso Ogbuehi, professor of Marketing and International Business, students who participated in the Business in Jamaica study abroad program from March 1-10 collected over 270 books for the Mona Common Basic School in Kingston, Jamaica.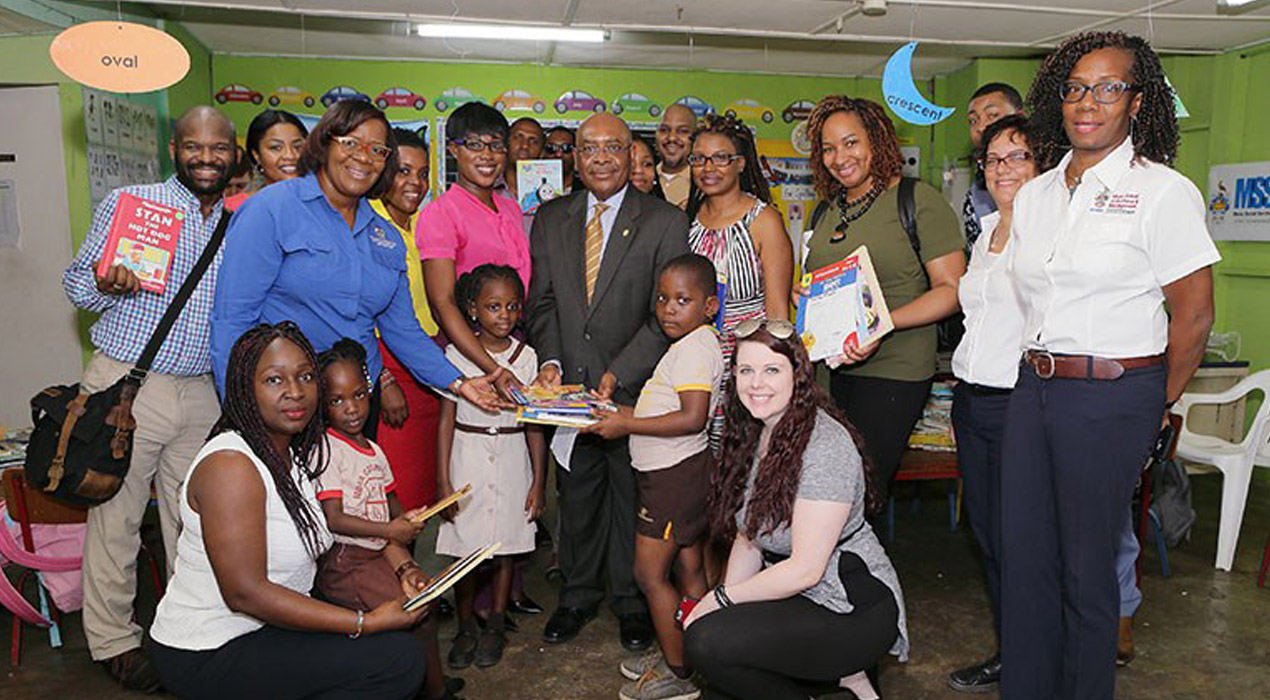 "As part of the 2019 Jamaica study abroad, I sought to engage students beyond understanding the economic and cultural transformations of the country," said Dr. Ogbuehi. "I wanted our MBA students to embrace the ethos of difference makers through community outreach in an emerging country. We focused on early childhood education through a book drive for pre-K students, mostly 3-5-year-olds."
The business students collaborated with Mona Social Services, an outreach arm of the Mona School of Business and Management at the University of West Indies to conduct the book drive and coordinate sending the books to the children.
When the students arrived in Jamaica to deliver the books, the experience was rewarding for them and the children they were supporting.
"The reaction of the children would make you smile and bring you to tears. The children were so excited and wanted us to continue reading to them even when we had to leave. They all enjoyed our company and love while we were there," said MBA student Crystal Stagg. "Being able to give back to children who are in need of basic supplies that we think are nothing here in America, not only makes you happy you can help them but also it made me personally incredibly grateful for everything I have."
The students also visited the August Town Primary School to deliver some books.
"The look, joy, and excitement on the faces of those kindergarten kids when they saw the books was amazing," said MBA student Thierno Balde. "We distributed the books accordingly; suddenly some kids were fighting over the books because they all wanted to read the same books. I was honored, not to just be in study abroad, but to be part of this donation which will impact the education and lives on those little kids."
Undergraduate student Anthony Patton said the book donation was a priceless moment and an opportunity to inspire the next-generation of leaders in the country.
"These children showed aptitude for every kind of learning–well informed, quick to understand, and qualified to become the next elite scholars for the building of an awesome nation such as Jamaica," he said.
Ogbuehi said the community service experience gave his students a chance to take part in civic engagement and social responsibility in an emerging country, something that he believes will give them a higher sense of purpose as future business leaders.
"I believe our students may have ushered these children onto the path to achieving their dreams, whatever those dreams might be," he said. "For me, it was a great privilege working with our students to encourage a spirit of global philanthropy as part of their business education. I am very proud of our students for rising to the challenge."