Phalando Lawson - Staff Profile
In the last twenty years, Atlanta has earned its moniker as the "Hollywood of the South" and has also become a major player in the music industry.
The homegrown talent seen on the big screen can be found at Clayton State University, not just among students, but staff as well.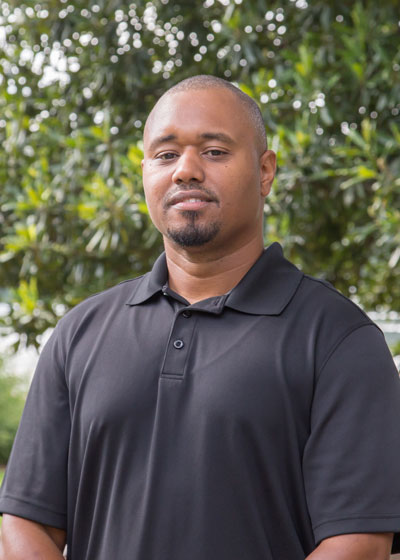 Meet Phalando Lawson. The Atlanta native can be found working in the setup crew for campus events as part of the facilities management department. But outside of work, you can find Lawson starring in local television projects and producing hip hop music.
Lawson has worked in the entertainment industry for more than 15 years. He has made appearances in productions such as Tyler Perry's Meet the Browns, Disney's The Odd Life of Timothy Green, USA Networks Unnecessary Roughness, BET's Second Generation Wayans, and feature film The Change Up starring Ryan Reynolds and Jason Bateman.
He has also starred in a variety of television commercials as well as indie movies all of which were filmed in the Peach State.
He is a Hip Hop artist and producer, owner of New P.L. Publishing and co-hosts a show on WIGO 1570am. He is the owner of Faceoff Records.
"You can find Lawson starring in local television projects and producing hip hop music."
Going by the name "Mr. Flamboyant," Lawson has worked with the likes of Lil Jon, Jermaine Dupri, and Sean Diddy Combs.
"I have worked with producers such as SoForReal Productions, ClayTown Productions, and WIN Productions who is associated with Block ENT and Bad Boy Records," he says.
Many wonder how they can be a part of the entertainment industry. Lawson chalks it up to maintaining local connections to get a heads up on potential opportunities. He credits Clayton State as a stepping-stone for his successes and advises people to dedicate a lot of hard work toward their goals.
Much like those who inspire him, including Denzel Washington, Dwayne "The Rock" Johnson, Russell Simmons and Sean "P. Diddy" Combs, Lawson said putting in effort helps one achieve their dreams.
"These entertainers have set an example on the benefits of hard work," he says.
Lawson has been with Clayton State for the last two years and in that time he has grown to appreciate the positive people he interacts with daily. The campus's facilities management department is a tight-knit group that is dedicated to creating and maintaining the university's physical resources to provide a healthy and safe educational environment for the campus community.
Lawson said the relaxed and laid back atmosphere of the university makes it an enjoyable place to work. He credits his partner at work, Xavier Bryant, as being one of his most influential colleagues.
"The two years that I have been here has been an amazing experience," he says. "I've met a lot of wonderful people and learned new skills with other departments."
Read more stories from this issue