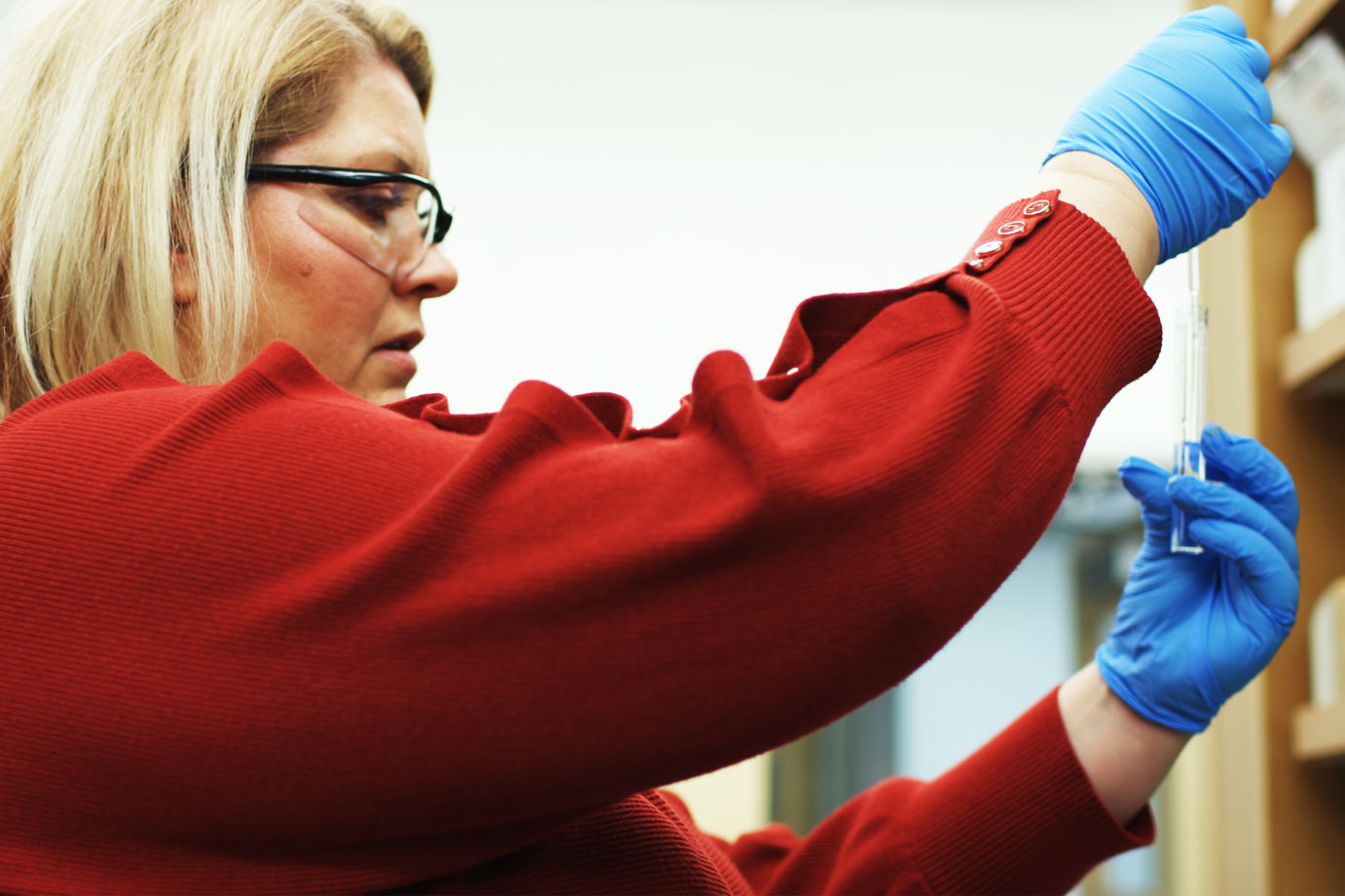 I
n her senior year, Kelly Jackson, 42, was studying chemistry at Clayton State University while juggling being a single mother raising two sons and working full-time in the restaurant industry as a general manager.
It was tough to do it all, but relief came in the form of a scholarship from a popular fizzy drink. Jackson discovered in 2019 that as a first-generation college student, she qualified for one of several scholarships created through a $500,000 donation from the Coca-Cola Foundation.
"It was really important for me to get this Coca-Cola scholarship so I wouldn't have to work so much," notes Jackson. "I quit my full-time job, and I was able to wait tables on the side while being able to focus more on my research and on school."
The needs-based scholarship program, which was formed in 2017, focuses on eligible high-achieving students who demonstrate a financial need. At the time, the initial set of scholarships was targeted to first generation students, female students who were studying science, technology, engineering and mathematics (STEM) and students studying supply chain management.
"We're crafting amazing outcomes for them and their career prospects. But how do we leverage the intellectual capital of those students and faculty in a way to really begin to address systemic problems and issues on the south side?"


– Chase Moore, vice president of University Advancement and External Relations
Now, thanks to an extension of the partnership with the Coca-Cola Foundation, Clayton State's Coca-Cola scholarship has gotten a $665,000 boost that will position the university to take the lead in transforming the southside of Atlanta.
The genesis for the scholarship idea arose from a 2019 Regional Leadership Institute in which Chase Moore, vice president of University Advancement and External Affairs, participated.
"It grappled with some of the very grim realities around health indicators, employment, housing and any number of life factors that influence the quality of life on the south side of Atlanta, the service area for Clayton State University," says Moore.
Moore says he began examining ways in which Clayton State – particularly through the Coca-Cola Foundation – could address student needs in innovative ways "so we're winning across multiple chessboards."

"We're providing desperately-needed resources for our students," he adds. "We're crafting amazing outcomes for them and their career prospects. But how do we leverage the intellectual capital of those students and faculty in a way to really begin to address systemic problems and issues on the south side?"
The new direction of the scholarship program has shifted to give students real-world experience by addressing issues that affect Clayton County. Five scholarship categories have been identified: First Generation Scholars in Wellness, First Generation Scholarships in Civic Engagement, Women in STEM, Scholarships in Social Innovation and Women in Leadership.
Seventy scholarships will be given out to students in each of these areas.
The scholarship's research areas "takes some of the work we've done in the past and create a platform for students to have some significant impact on the community as well as provide a way for us to engage with partners to identify and begin to tackle some of these issues," says Moore.
The shift in the scholarship program also reflects a commitment to one of the goals of the five-year strategic plan and the vision of Clayton State President Dr. Tim Hynes to increase community engagement, Moore notes.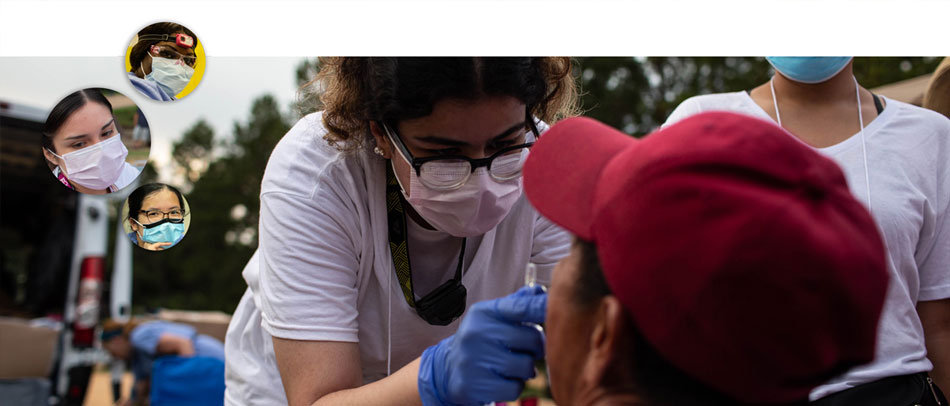 Clayton State's community involvement already is wide-ranging. From dental hygiene students providing oral care to migrant workers in Moultrie, Georgia to business students preparing free tax returns for area residents who can't afford accounting services, the university has found ways to support the community.
One of the issues Moore hopes the scholarship program can make an impact on is improving the county's water quality through the Flint river research project helmed by the chemistry and physics department. Students study water sample data from the Flint River watershed that flows into Clayton County to measure the impact of impervious surfaces created through development.
Another is community wellness. Health and healthcare management students on the scholarship program can work to expand health and wellness outreach to organizations, churches, and community associations.
For civic engagement, the scholarship funds can support students in discovering their civic identity and what it takes to influence policy, says Moore.
"How do you package great ideas and get them in front of those who can influence policy?" he says. "We also want to support stronger ties between our regional delegates, our local elected and appointed officials and our student body so that they can learn the importance of government."
Scholars in the College of Business will be able to spearhead a social innovation initiative that connects students with community members to engage in a solutions-based effort around issues such as poor traffic flow, systemic homelessness and food deserts.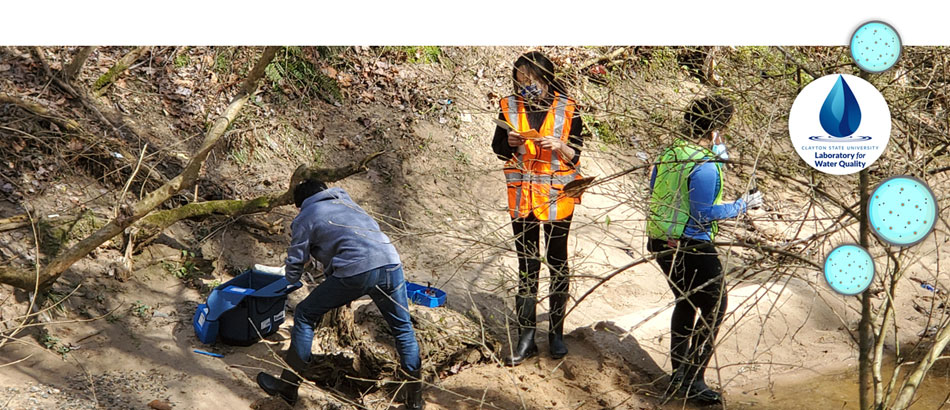 Chemistry and physics students test the water quality of the Flint river to support water revitalization efforts.
Moore says in the case of social innovation, "eyes from Atlanta are acknowledging that the south side for years has lagged behind and Atlanta cannot be in its healthiest form while the south side is struggling."
By taking a targeted approach to the scholarship program, students will graduate with the ability to fill the "soft skills" gap employers say college students lack and can be developed through teamwork, giving them stronger positioning as they enter the workforce.
"Students will build their soft skills when it comes to working with others from grappling with hard abstract concepts and working to bring about concrete solutions, to grappling with validating data to come up with provable data points and prove out assumptions and theories," Moore says.
Moore says he hopes that what is starting as a two-year pilot program using the scholarship funds will evolve into long-term efforts benefitting students and improving the quality of life in Atlanta's south side.
"Our students come out packed with all of the talent and potential that students at other wealthier institutions go to university with," says Moore. "However, many of our students are not only first-generation to higher education, but they're first-generation to corporations. They're the first generation to think about career progression and all of those things that lead up to those successes. We have to create these mechanisms for taking our students a couple of steps further to being very explicit about how one gets from where they are today to where they'd like to go tomorrow?"