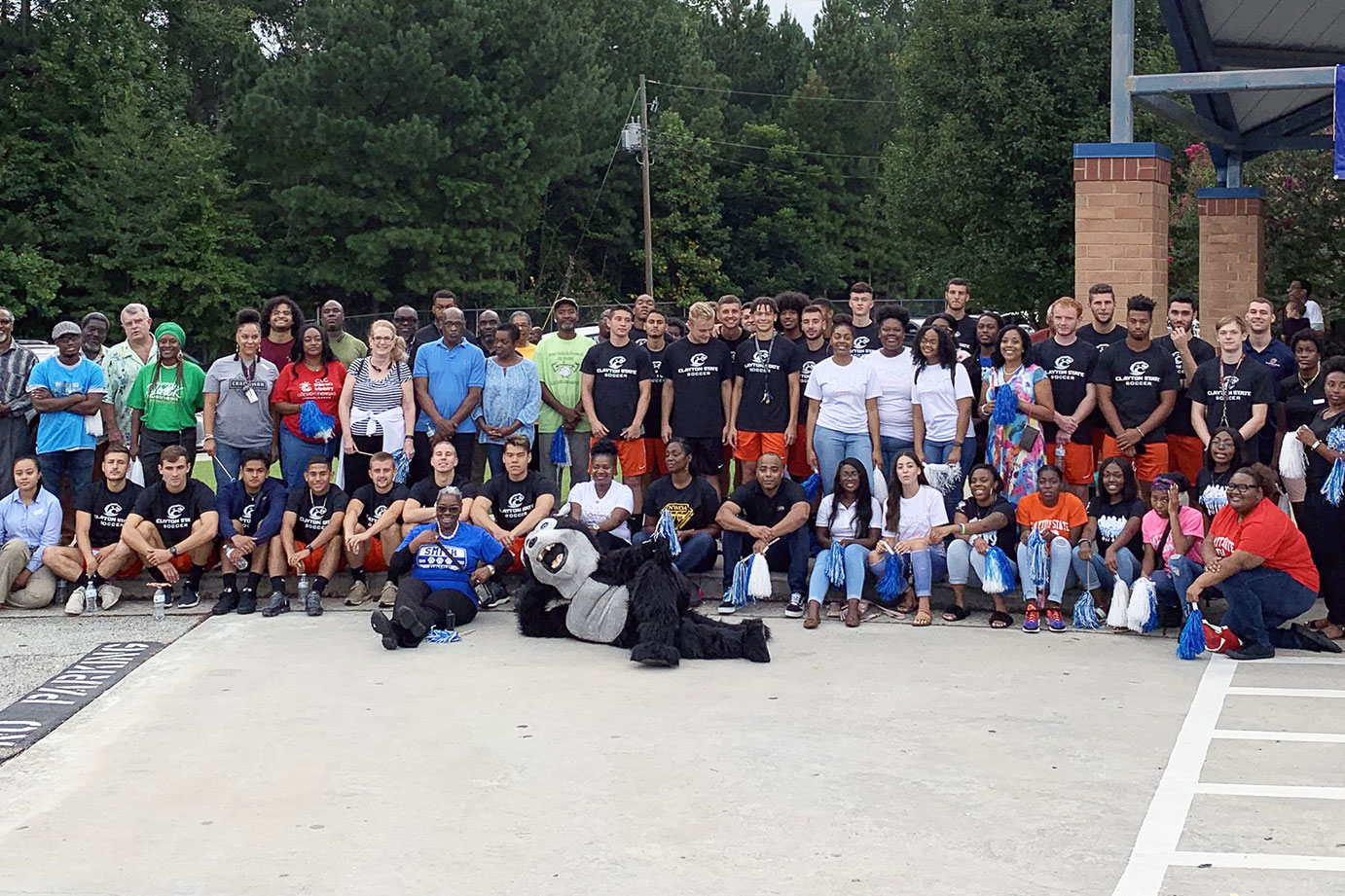 V
olunteerism. There are several synonyms to describe it: Outreach, community engagement, community service or charity.
It is one of the core principals of not only Clayton State University, but also its Department of Athletics. Giving back runs deep in Laker history.
The community engagement effort by the Department of Athletics gives Clayton State student-athletes an opportunity to engage in positive experiences where they can connect with peers on campus to address the needs of their local neighbors.
Since arriving to Morrow in 2018, Clayton State's Director of Athletics Ryan Erlacher has placed community engagement, which pre-dates him, at the forefront for the program.
"Right away I knew there was an opportunity to do a better job of bridging the gap, getting the community excited about our product and getting the community to rally behind us. I thought one of the best ways for us to get out there was to serve our community and give back," Erlacher said.
With these intentional efforts in mind, the Lakers Athletics Department finished the 2019-20 academic year ranked fourth in community engagement hours among NCAA Division II institutions, according to Helper Helper, an official partner of the NCAA and a community engagement platform that coordinates and tracks community service hours.
During that season, Clayton State student-athletes logged over 2000 hours of community engagement that included several activities and projects that benefited the surrounding area.
"The amount of time they put in the classroom, at practice, competition, travel and their social lives, to somehow find time to give back to their communities is really exceptional. They have made it a point to engage with the community," Erlacher said. "Service is one of the core values here and that is what they are offering. We have great coaches in place that understand the importance of that."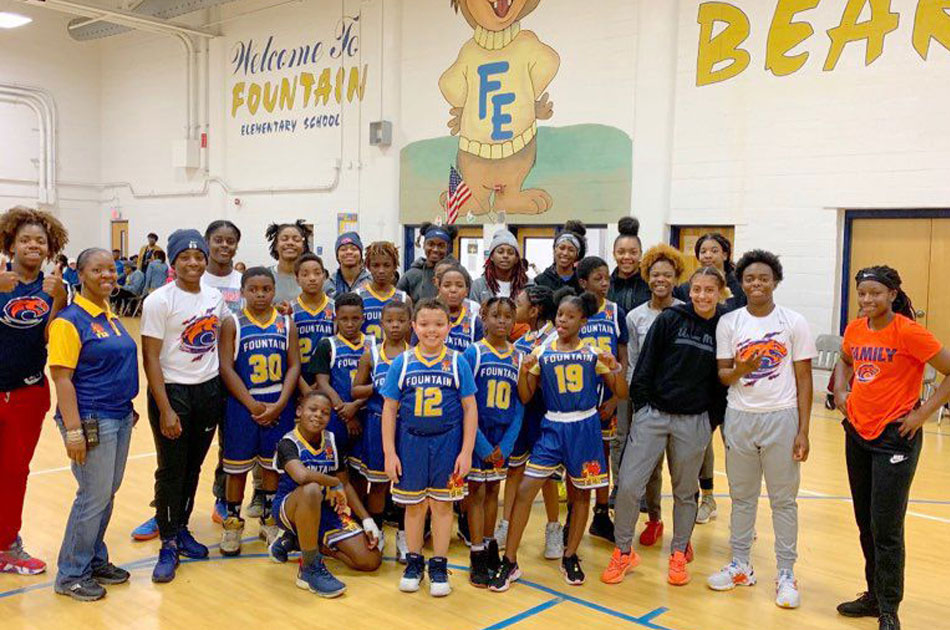 The 2019-20 season was not anything new for the Lakers though. The Athletics Department has a history of interacting with the community and reaching out a helping hand. Such endeavors have included Habitat for Humanity projects, family fun days with local elementary schools, parent's night out, bone marrow drives and many more.
For head women's basketball coach Kaleena Coleman '06, the service over the years has helped her become a better person and a better leader.
"Being a coach, you need to lead by example," Coleman said. "I try to be a very caring person, so I try to install that service mentality with my teams. That way when they are done playing and have graduated, they know to give back. When they see someone in need, they help."
"I'm happy we do it as a team and as a department. I'm happy it's a core value for the department and university. And with all the programs buying into it, the coaches and student-athletes tend to make it a competition to see who will get the most hours or do the most projects. Overall, it just makes me happy to see our students giving back."
In addition to the Department of Athletics being recognized, three Clayton State teams earned high rankings among their respective NCAA Division II programs.
The women's basketball team ranked second in the nation with over 550 service hours while the men's track & field team was fifth and the women's track & field team ranked 10th.
Led by assistant coach Brittany Hall '12, the women's basketball team community engagement efforts have covered family fun days, elementary school lock-ins, parent's night out and several other projects.
"Doing these community service projects is important to me and I try to relate the message to our players, so they understand the importance of them," Hall said.
"Right away I knew there was an opportunity to do a better job of bridging the gap, getting the community excited about our product and getting the community to rally behind us."


– Ryan Erlacher, director of Athletics
Like the women's basketball team, the track & field program stayed active throughout the year with several projects that included a bone marrow drive, where they partnered with "Be The Match," an organization that operates under the National Marrow Donor Program and manages the largest and most diverse marrow registry in the world.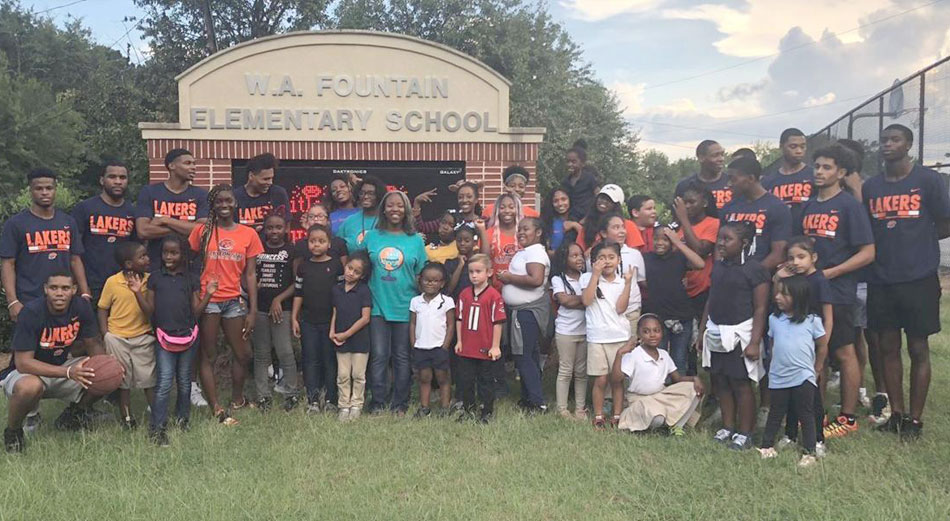 "Being active in the community is important to our team," head men's and women's track & field coach Chris Brown said. "Not only does it help our community, but there's quality team bonding when you do these different projects. Our student-athletes take great pride in giving back.
"To whom much is given, much is required. You have to be able to show that you're able to help contribute to society," Brown said. "You're never too big to get involved with community service and it's just a nice way to give back."
The Lakers had high hopes for the 2020-21 season but have had to put several annual and new projects on hold due to the coronavirus pandemic. Erlacher said that his department and the student-athletes are eager to serve the community once it's safe to do so.
"We miss it though and are ready to get back out there. It's something we look forward to and it's who we've become," Erlacher said. "National ranking or no national ranking, it's something we enjoy doing. It's a great experience for our student-athletes and they learn a lot and get a lot from it."