Hidden Histories
Fall 2020 | By Kelly Petty
As a doctoral student at Florida State University 10 years ago, Dr. Aisha Johnson-Jones made a spectacular discovery as she sought to work on her dissertation about African American history. Among the nearly 600 boxes of archives at Fisk University, she found several boxes that included information about public library programs and the Julius Rosenwald Fund.
The story of Julius Rosenwald, a leading Jewish-American businessman in the early 20th century, and his decision to invest his wealth into improving the literacy of African American people in the south, stood out to Johnson-Jones.
Besides a few books that exist on his life and work and a documentary film that was released in 2015 that highlighted his relationship with the African American community, Rosenwald's legacy has remained untold in the public.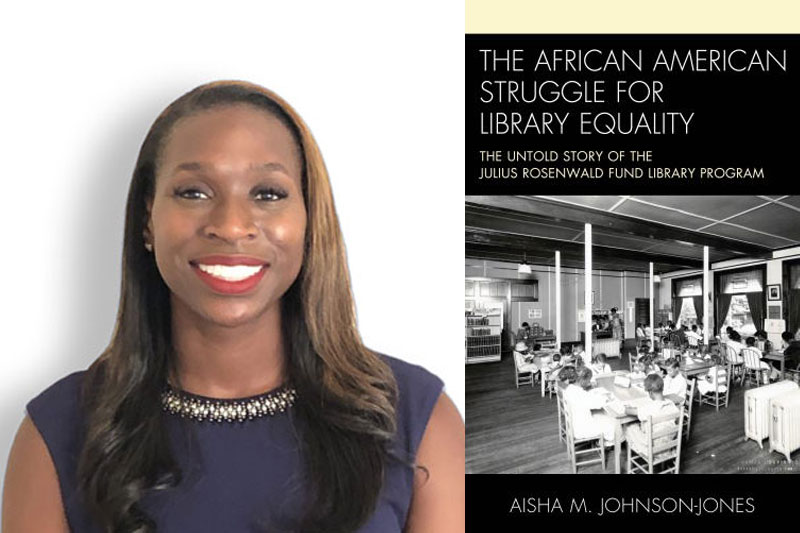 The archived collection gave Johnson-Jones an opportunity to shed light on an untold part of Black history that ushered in what she describes as the development of southern intellect for African Americans in the south.
And out of it, she penned a book titled "The African American Struggle For Library Equality: The Untold Story of The Julius Rosenwald Fund Library Program."
"I really want to let others know that though this was about the African American struggle for access, when you help one culture, you really help all of us," says Johnson-Jones.
Rosenwald made his fortune by becoming part owner of Sears, Roebuck and Company, transforming operations for the consumer goods business. And much like his contemporaries, he wanted to find a way to use his wealth to improve the public good.
On the advice of his friend and Civil Rights leader Booker T. Washington, he was encouraged to use his money to address the inadequate education African American children were receiving.
Washington, who at the time led Tuskegee Institute, was well-regarded among politicians, philanthropists and entrepreneurs for his desire to improve the conditions of African Americans in the south. And he knew where Rosenwald's money could be best served.
"I feel like I've only scratched the surface. I know this isn't the only story." – Dr. Aisha Johnson-Jones, archival studies professor
"He really admired Booker T. Washington and what he stood for," says Johnson-Jones. "I was really surprised at the level of love and admiration he had for him, and it really sparked something."
In 1917, Rosenwald established the Julius Rosenwald Fund, which supported the development of over 5,000 public schools for African American children in 15 southern states.
"He ends up developing public libraries, school libraries and teacher training colleges at HBCUs," she says. "From there we saw the training and formal education of African Americans as librarians. Many of the 43 college libraries that benefited from this program still exist today."
But Rosenwald's generosity was not limited to public schools. He leveraged the lack of educational progress in the South to mandate universal access to quality education, Johnson-Jones notes in her book.
"Because of the rural area, Rosenwald was really focused on everyone having access. So, whether it was Black, white, rural, city—he put this in the stipulations [of his fund]," Johnson-Jones says. "Here's this man saying, "either, you're going to take my money for everybody or you're not going to get it."
According to her research, the Rosenwald Fund spurred the development of what is widely known as tax-supported local library systems and book mobiles. Further, the institutions created from the fund provided a place for many well-known African American scholars to flourish.
"There is a race relations institute that was developed at Fisk University that so many African American figures walked through and benefited from its programs," she says. "So, it really highlights what I call social justice philanthropy for the African American community."
"I really want to let others know that though this was about the African American struggle for access, when you help one culture, you really help all of us," says Johnson-Jones.
Johnson-Jones is one of few researchers that have done extensive work to tell the story of Julius Rosenwald and his fund. One reason for this is partly due to an underappreciation for the full African American story and the lack of funding to support archival efforts, says Johnson-Jones.
"The untold stories are in the archives," she says. "[But] the archival research and people doing the scholarship, they need funding and support from teaching duties, especially in academia, because its time consuming."
The other reason, and the basis of her next research project, is the lack of library and information science programs at historically black colleges and universities.
In the early 20th century, Johnson-Jones says, there were many library and information sciences programs at HBCUs, but that number has significantly diminished in recent years with North Carolina Central University being the only HBCU offering a library and information sciences program.
"The closure of a number of these programs has significantly hurt the field of library and information sciences, but also archival studies because there were a number of scholars in education who were trained librarians."
Johnson-Jones says that many HBCUs hold many collections full of old documents, books, photographs and other materials that have yet to be processed.
She hopes to show that gaps in research, opportunities to do archival studies and limited funding all play a major role in making these collections available to the public.
"I feel like I've only scratched the surface. I know this isn't the only story," she says. "I want other scholars, other graduate students to go and dig into these archives and see what they can find. I want to spark the interest within others."
Related Stories
MUSIC LIVES
By Kelly Petty
Thanks to his passion for the arts, former Jonesboro native Lon Carnes left a legacy with Clayton State to provide aspiring music students the support they need to complete their degree.
---
ON THE MOVE
By Allison Salerno
At a time when politics is being energized by a young, diverse electorate, Frederick Hicks '99, finds himself becoming a transformative leader as one of Georgia's top political strategists.
---
TOKYO BOUND
By Chuck Tidmore
A Clayton State head track and field coach and five-time Olympian holds out for a future run at a postponed Olympics.