A
t the onset of the COVID-19 pandemic, Georgia's film industry came to an abrupt halt. The Georgia Film Office reported the state's industry took a $2.2 billion hit during the fourth quarter of the fiscal year in 2020.
But for Tamara Patridge '04, executive director of the Clayton County Tourism Authority, the pandemic has been an opportunity for her and her team to strategize and position Clayton County not only as a top filming location, but also as a burgeoning destination for cultural and heritage tourism.
As the official tourism marketing entity for the county, the Clayton County Tourism Authority focuses on bringing visitors, as well as conventions, meetings and other events to the area. Patridge and her team also serve as liaisons to location scouts and film and television producers looking for places to film.
In the last few years, the county has served as a backdrop to over 200 blockbuster films like "Bad Boys For Life" and "Avengers: Infinity Wars" and critically acclaimed shows like the Donald Glover comedy "Atlanta" and Netflix original "Raising Dion."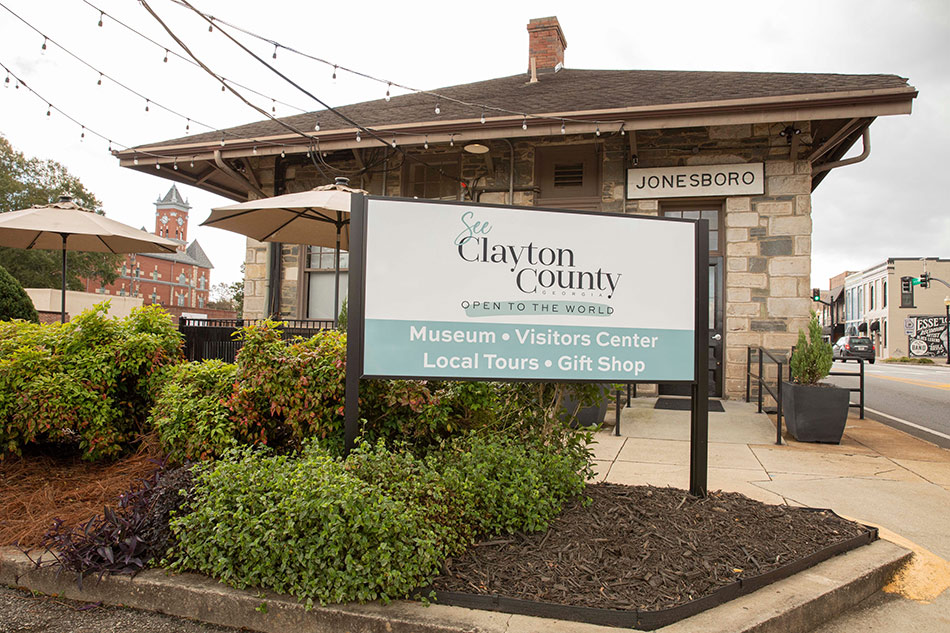 The growth of the film industry has played a vital role in Clayton County's economy and tourism. And central to Patridge's role is to identify opportunities and attract film, television and commercial productions to the county.
But even as the pandemic raged on, Patridge says filming eventually picked up and continued to take place in the county. She attributes the sustainability of filmmaking in the south metro Atlanta community over the last decade to leveraging relationships.
"It's natural for us all to go back to what we're comfortable with and who we're comfortable with," Patridge says. "A lot of things are unfamiliar, but when you have established relationships, [filmmakers] kind of know I'm going to take care of it from A to Z."
Patridge knows the value of Clayton County as a suburban hot spot. It's what attracted her to Clayton State.
A resident for over two decades, Patridge first came to then-Clayton College & State University out of convenience, not unlike many students. It was close to home and more financially prudent, she said. Yet, during her time, Clayton State became more than just an accessible campus for Tamara.
"The hands-on [experience] at Clayton State University is just incredible," she remembers. "I feel like I made a lot of friends not only with my fellow students, but also with the professors. You feel the love at Clayton State."
Patridge graduated and began a career in the corporate world, after spending time with the U.S. Department of Defense.
When Patridge landed her current position as executive director of the tourism authority, she quickly recognized a need to share the multicultural diversity of Clayton County. The primary attraction for Clayton County is the Road to Tara Museum, an exhibit focused on the film, Gone with the Wind.
Early in Patridge's tenure she noticed the lack of worthy acknowledgement of two of the film's African American stars, Butterfly McQueen and Hattie McDaniel, who was the first Black actress to win an Oscar for her role.
Weighing the cost of changing the focus from what people had come to expect of the museum versus addressing perceptions about the museum's intent, Patridge chose the latter.
Giving special focus to McQueen, Patridge reimagined the story being told in the museum. Among the many updates to the exhibits is a photo of actress Butterfly McQueen and a copy of a 1937 protest flyer for the film.
The renovated museum was unveiled at the end of 2019 and stayed open for a short time before closing because of the pandemic. It reopened in July 2020. Patridge encountered some opposition from community members who wanted to retain the original purpose of the museum, but many have welcomed the change.
"The hands-on [experience] at Clayton State University is just incredible," she remembers. "I feel like I made a lot of friends not only with my fellow students, but also with the professors. You feel the love at Clayton State."


- Tamara Patridge, executive director, Clayton County Tourism Authority
And Patridge's efforts were validated last summer during the reopening, when America was gripped by the tragic death of George Floyd at the hands of a Minneapolis police officer. Spurred by those events, HBO Max removed "Gone With The Wind" from its streaming lineup, while Patridge got a call from CNN about the film's racial undertones.
"I'm very happy that as a nation we had a reckoning and we're trying to the do the right thing now, but I made those changes the minute I took this job," Patridge says. "I thought there's a better way to tell this story. Let's talk about the African American contributions to this film."
Embracing a welcoming, multicultural identity for Clayton County is central to the tourism authority's recently released marketing campaign.
"Who is in our community? Who is coming to our community?" she asks. "I don't think our marketing message was speaking to that audience."
Her office developed a new website, new marketing material, and a new tagline—Open to the World. Patridge thought it was critical that visitors recognize Clayton County as the vibrant place that it is, which informed the "See Clayton County" marketing campaign.
The need for this reimagined messaging really struck home with Patridge in November when Clayton County was the center of national attention for its role in the presidential election. CNN chief national correspondent John King said about the county, "it's growing, it's vibrant and it's diverse."
Patridge says when she heard those sentiments from King, she agreed, thinking, "I don't know who you've been talking to, but that's what I've been saying for ten years!"
It's that kind of enthusiasm and passion for the community that Patridge brings to her job that will ensure a bright future for Clayton County.
She says, "I feel like I have one job, and that is to make you feel welcome when you come here."