Campus Tree Care Plan
Clayton State University is dedicated to caring for the campus tree population by providing a safe, healthy and sustainable environment for the trees and the overall campus. The Landscape Management department continuously works to maintain, manage, improve, renew and protect the trees on the University's campus. Through careful planning and proper maintenance, the trees of Clayton State University enhance the University's landscape, provide a habitat for a diverse animal and insect populations, and provide a pleasant environment for study today and for many generations to come. The University commits to:
Maintain a diverse landscape with a wide range of tree species.
Provide various habitats for enjoyment and study on campus.
Maintain a park like setting for students, faculty and staff.
Provide homes to tree dwelling insects and animals.
Continue to care for and maintain all trees so that future generations will be able to enjoy their benefits.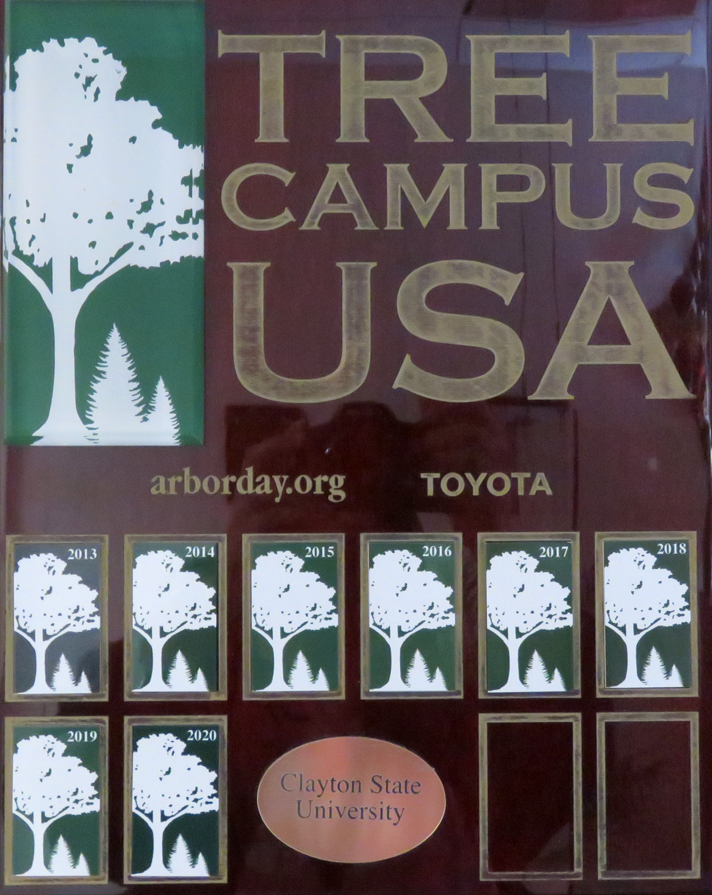 ---
The Arbor Day Foundation has awarded Clayton State University the Tree Campus USA recognition for the past seven years. Tree Campus USA, a national program launched in 2008 by the Arbor Day Foundation, honors colleges and universities for:
Effectively managing their campus trees.
Developing connectivity with the community beyond campus borders to foster healthy, urban forests.
Striving to engage their student population utilizing service learning opportunities centered on campus, and community, forestry efforts.
Colleges and universities across the United States can be recognized as a Tree Campus USA college by meeting five standards developed to promote healthy trees and student involvement.
---
Standard 1 - Tree Advisory Committee
The Clayton State University Tree Committee serves as an advisory committee to the Department of Facilities' Landscape Management working to maintain, manage, improve, renew and protect the trees on the University's campus and to share information with the campus community. The committee was established on February 3, 2012 and meets twice a year or on an as-needed basis.
Committee Tasks:
Educating the University community about the tree management plan and stewardship
Giving recommendations for replanting
Advising on tree-related issues on campus
Reviewing the University's tree management plan
Helping create approved and experimental tree lists
Committee Members
---
Standard 2 - Campus Tree Care Plan
The Tree Care Plan for the University sets good policies and clear guidance for planting, maintaining, and removing trees. It also provides education to the campus community, citizens, contractors, and consultants about the importance of the campus forest and the protection and maintenance of trees as part of the growth and land development process. Please follow the link to access the complete
---
Standard 3 - Campus Tree Program with Dedicated Annual Expenditures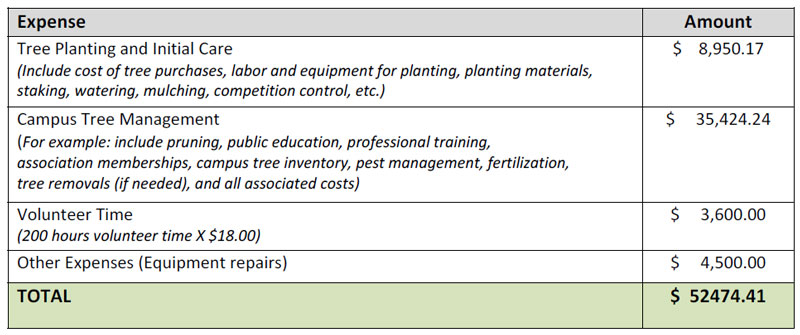 ---
Standard 4 - Arbor Day Observance
Standard 4 has been removed until further notice in order to maintain the COVID-19 social distancing requirements.
---
Standard 5 - Service Learning Project
---
Tree Inventory
A tree management plan was developed by the Facilities Management department in collaboration with arborists from Bartlett Tree Experts to take care of the trees that need attention. All trees that are removed will be replaced with the right specimens for each location. Trees are monitored for safety, pests, disease, maintenance, other environmental factors, and the overall health of each tree. The inventory included:
Identifying trees on the Clayton State University property and assigning a tag number to each tree.
Identifying the trees' condition, health, and vigor.
Recommending hazard evaluations and removals of appropriate trees.
Recommending pruning, soil management, and pest management treatments to promote tree safety, health, and longevity.
Mapping the trees using Global Positioning Satellite Receiver (GPSr) hardware and Geographic Information System (GIS) software.
Clayton State University evaluates the tree inventory on campus. The goals are to plant more long-lived specimen trees that students, staff, faculty and visitors can enjoy for many generations to come. A regular pruning schedule is in place for safety, health, structure and appearance. Provide root collar excavations to suspect trees. Buried root collars can contribute to a number of tree health problems, including girdling roots, basal cankers, masking root and lower stem decay, and predisposing trees to various insect and disease pests. Improve soil structures for existing and newly planted trees. A list of recommended tree species was created by the Committee to replace the aging and mature Pines on campus.
Tree Management Presentation to the Admin Council
---
Tree Safety and Removal
Landscape Management inspects the tree population on campus routinely. Trees that have poor condition and health must be removed to prevent hazardous situations on campus. The Landscape Management will make sure the students, faculty and staff are alerted through campus communication at least three days in advance of the removal.
If any hazards related to trees on the campus are found, please contact Facilities Management at (678) 466-4240 to report the problem.