A Joyful Moment
Clayton State News
May 3, 2021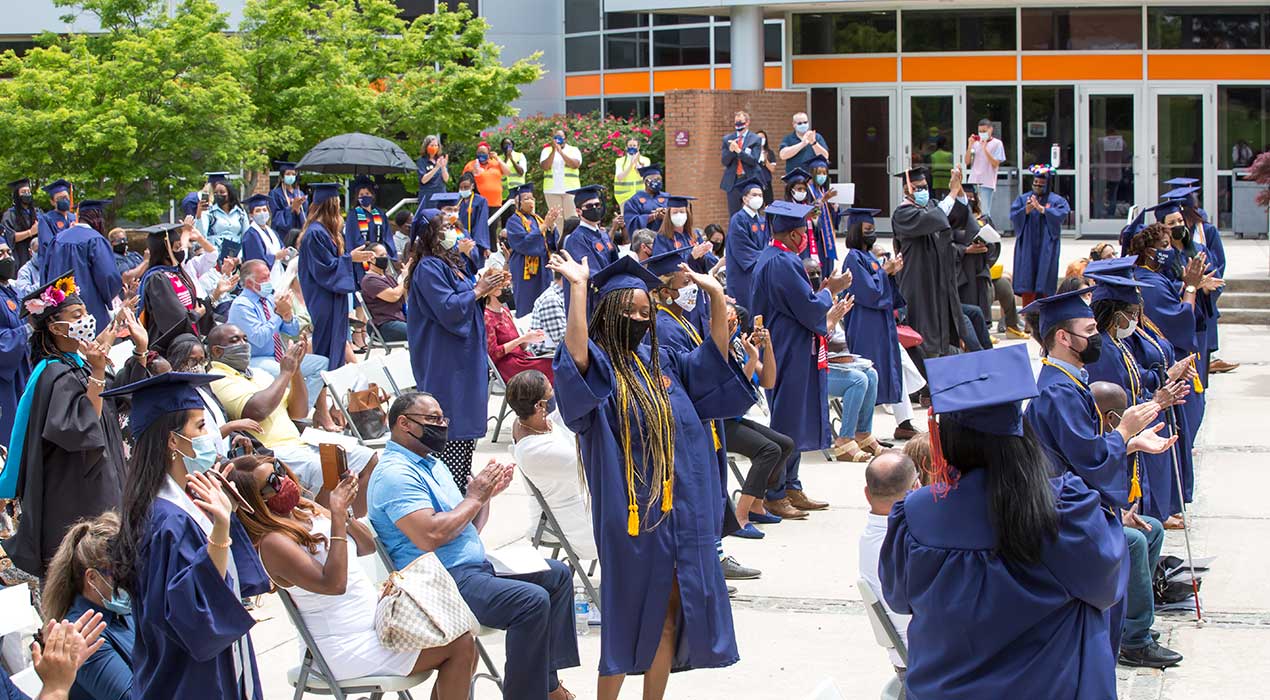 Clayton State University graduating students were able to end a challenging year with some sense of normalcy and a bit of celebration. From April 30 to May 1, the university held multiple commencement exercises to mark the academic achievements of graduates from the classes of 2020 and 2021.
"There have been fewer moments over the last year in which things have felt joyful," said University President Dr. Tim Hynes. "We certainly have challenges now; and there will be no end of challenges in all of our futures, even as we come closer to the end of a pandemic, an economic recovery and at least some recognition that more can be done for social justice. Your education, and certainly your degree will add to the strengths and perspectives that will help you address those challenges."
Donned with masks and commencement regalia, both undergraduate and graduate students sat together in outdoor ceremonies with family. Students had the opportunity to stand and be recognized as their names were called. Graduate students stood and received their hood in recognition of earning an advanced degree.
Words of congrats and encouragement were delivered by several guest speakers.
United States Sen. Raphael Warnock told students to reflect on the sacrifices they've made and celebrate reaching the milestone of earning a degree.
"As you follow your passion, that research focus, that dream job, carry today's accomplishment with you," Warnock said. "And push back on any fear that rises along the way as you continue to work hard to forge and clear a pathway to your wildest dreams."
Sarah-Elizabeth Langford Reed, a member of the Board of Regents of the University System of Georgia, praised the students for their perseverance and determination.
"I want you to remember as you continue in life to succeed you will encounter challenges and obstacles," Regent Langford Reed said. "I want you to pull on that perseverance and that determination that brought you through and allow those ideals to continue propelling you to success."
Clayton County Juvenile Court Chief Judge Steven Teske challenged students to seize the opportunities in front of them that will lead to bright futures.
"Do what Nelson Mandela said: Soar like an eagle, Shine that light. Your life has been enriched by your experience at Clayton State University," he said.
Award-winning director Kenny Leon reflected on his journey from being born in Tallahassee,Florida to working with top Hollywood and Broadway talent to remind students they can create a pathway to success no matter where they start.
"You can do anything you want to do. Just take YOU wherever you go. You are enough," he said.
Two student speakers from the graduating class also delivered remarks during commencement.
MBA student Christopher Edwards encouraged his fellow graduates to keep pushing forward with the same tenacity it took to get through the last year and complete their degrees.
"We set a goal, we believed we could do it and we did," Edwards said. "Now as we move on to our next chapter, I encourage each and every one of you to keep that same energy that got us to this point."
Bachelor of Business Administration student Gennisey Jones encouraged her peers to be intentional in finding and living out their purpose.
"We have been shown that anything good we desire in our lives we can obtain," Jones said. "Let us remain humble and mindful in our new chapters of life."
View the spring 2021 commencement ceremonies gallery
---
View the Friday, April 30, 2021 Commencement Ceremony
View the Saturday, May 1, 2021 Commencement Ceremony