Clayton State University wins four awards in national advertising awards for 2020
Clayton State News
March 24, 2020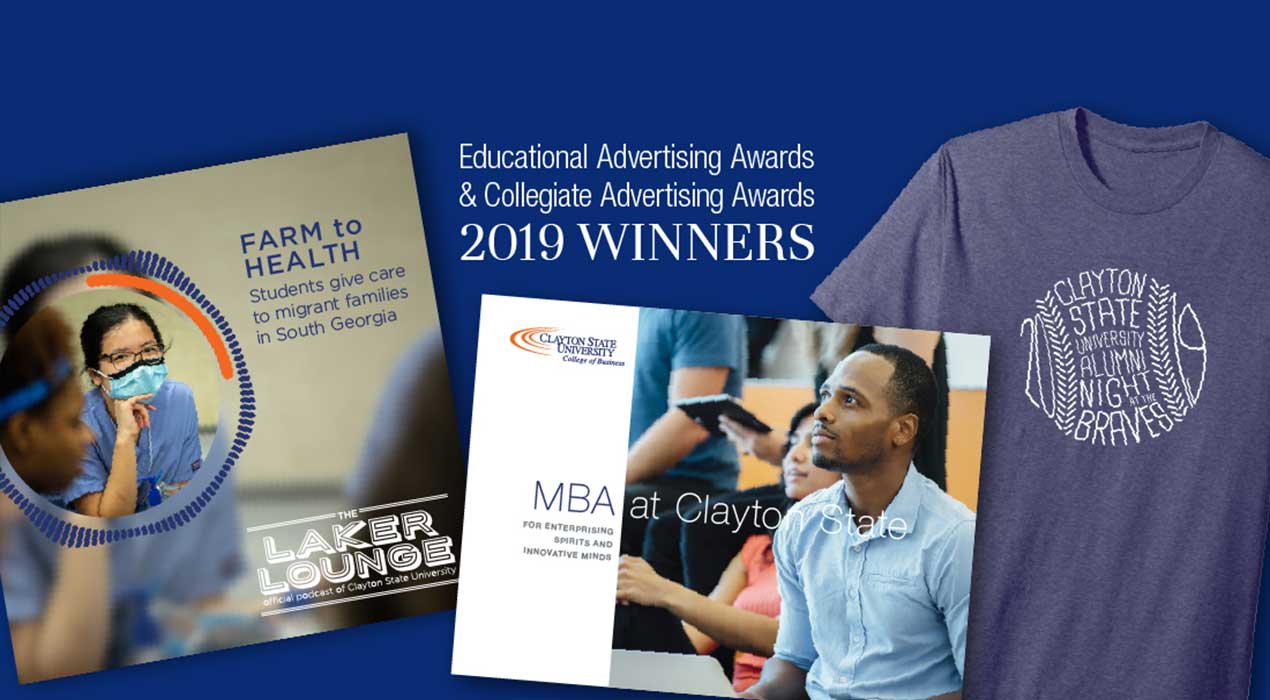 Clayton State University's Marketing and Communications office has earned four awards for its marketing and promotional materials from the 35th Educational Advertising Awards and The 2019 Collegiate Advertising Awards.
The university earned the following:
Educational Advertising Awards
Bronze – Brochure: Master of Business Administration Brochure
Bronze – New Media: Laker Lounge podcast - Season 2, Ep.1 Farm to Health
Collegiate Advertising Awards
Gold – Webcasts/Podcasts: Laker Lounge - Season 2, Ep.1 Farm to Health
Silver – Advertising Specialty: Clayton State Alumni Night at the Braves T-shirt
More than 2,350 entries were entered from 1,000 colleges, universities and secondary schools in the Educational Advertising Awards. Entries were judged on creativity, marketing execution and message impact. The Collegiate Advertising Awards included hundreds of submissions from small community colleges to large schools and universities that were judged on creativity, layout/design, typography, production, quality and overall effectiveness.
"These awards acknowledge the efforts of the Office of Marketing and Communications to promote the university's brand through creative solutions," said Asia Hauter, assistant vice president of Marketing and Communications. "We are thrilled to be recognized among so many other prestigious colleges and universities and look forward to continued work with our campus partners to advance Clayton State's mission of empowering students to succeed in their lives and careers."
To date, the university has won a total of seven awards in the last three years.
In 2017, Clayton State earned a Gold Award from the Collegiate Advertising Awards for its fall 2017 edition of The Laker Connection. The university also won a silver award for the spring 2017 edition of the magazine and a merit award for the fall 2017 edition of the magazine in the Educational Advertising Awards.