2019 College of Arts and Sciences announce Gene Hatfield Award winners
Clayton State News
August 20, 2019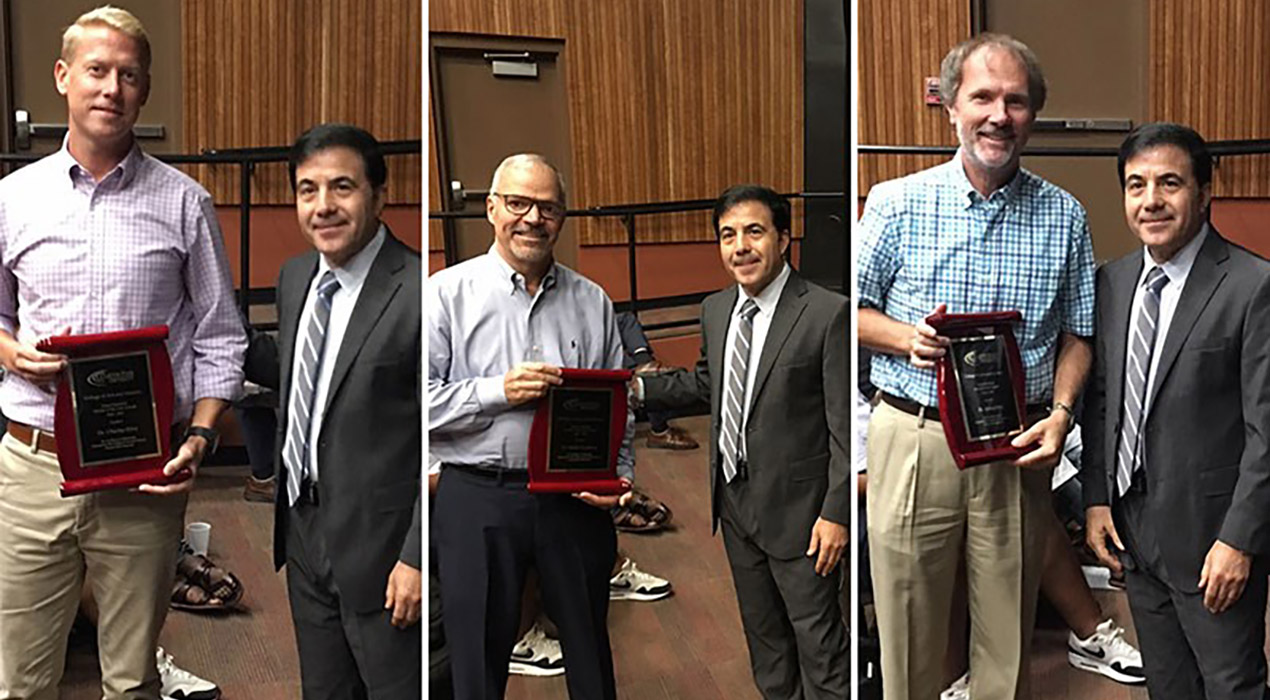 The College of Arts and Sciences began the new academic year recognizing its professors who have made achievements in service, scholarship and teaching excellence. Winners of the Gene Hatfield Annual Service Awards were announced on Aug. 8.
"One of the highpoints of every fall semester is the announcement of the Gene Hatfield Teaching, Scholar and Service Awards," said Dr. Nasser Momayezi, dean of the College of Arts and Sciences. "I believe that these awards are the highest honors which can be bestowed upon any faculty member in our College at this University, because they are the best among us. And that is certainly true for all three award winners this year."
Three faculty were selected for the awards, which are provided by the estate of Dr. Gene Hatfield, former professor emeritus of history who taught history and government at Clayton State University for 32 years before retiring in 2008.
Dr. Mark Daddona, associate professor of psychology, was selected as teacher of the year.
"It is truly an honor and a privilege to receive this recognition from my colleagues in the College of Arts & Sciences where there are so many outstanding faculty members," Daddona said. "The fact that the initial nomination came from one of my students makes it even more meaningful to me."
Dr. Charles Elfer, associate professor of history education, earned the Scholar of the Year Award.
"Being nominated for the Scholar of the Year Award is a tremendous honor for me, in no small part because I am well aware of how much production is taking place in the College of Arts and Sciences and at Clayton State, more generally," Elfer said. "Scholarship is such a critical part of all of our academic lives, and it is really rewarding to be recognized for the effort."
And Dr. Richard Bell, associate professor of music, received the Service of the Year Award.
"I am extremely appreciative of this award and am honored to be able to work with such a wonderful group of students, faculty and staff," Bell said. "Clayton State is a very special place and I am so glad I am part of the CSU family."
The Gene Hatfield Awards are voted on by faculty committees each year. Recipients are then chosen by their peers, other full-time faculty members, in recognition of their outstanding contributions in advancing the College's mission of service through teaching, research and creative endeavors.