Faculty and staff contributions to university recognized at Annual Service Awards
Clayton State News
May 14, 2019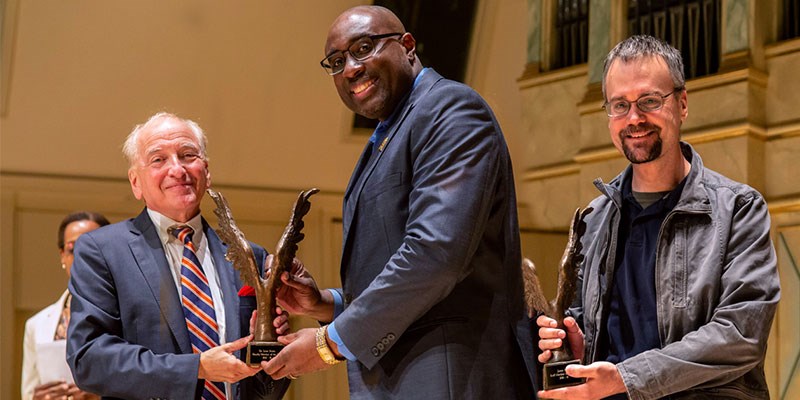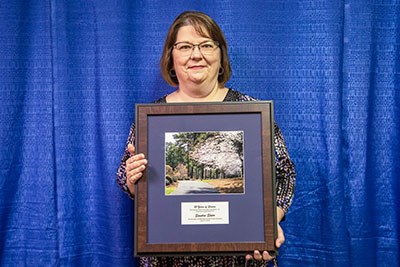 Clayton State University's faculty and staff were recognized for their commitment to educating students and serving others during the 2019 Annual Service Awards on April 30.
Held in Spivey Hall, the ceremony celebrated faculty and staff through recognizing years of service, tenure, promotions, retirement and accomplishments.
The winners of the Alice J. Smith Awards, an honor given to the most outstanding faculty and staff members nominated by their peers, were announced during the event.
James Fries, technology support specialist, won the staff award, while Dr. Leon Prieto, associate professor of Management, received the faculty award.
Both winners were shocked by the selections and expressed gratitude to their colleagues for choosing them for the honor.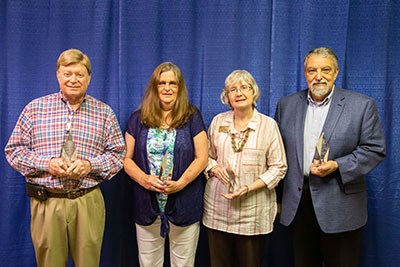 "It is an incredible honor to win the Alice Smith award," Fries said. "I am blessed to work with such wonderful people. To win this award from a group that I admire so much makes me extremely grateful and happy."
For Prieto, the award culminated his years of educating future business professionals.
"Teaching is my passion, and this award is special because it recognizes all of my efforts to ensure that my students are equipped with the knowledge, skills and abilities that are necessary to be successful in the workplace," he said. "Being recognized by my peers for my accomplishments is such an honor, because it further lets me know that what I am doing is meaningful. It is a humbling feeling to be chosen by individuals who are also passionate about teaching."
More than 50 employees across campus received certificates or plaques for their years of service ranging from 5 to 30 years. Twenty individuals were presented Retiree Awards.
The University also announced the six University Professorship Award winners for making a meaningful impact in the lives of students and colleagues–Dr. Catherine Matos, Dr. Carin Lightner-Laws, Dr. Keith Miller, Dr. Patricia Smith, Ms. Shontelle Thrash, and Dr. Grace Nteff.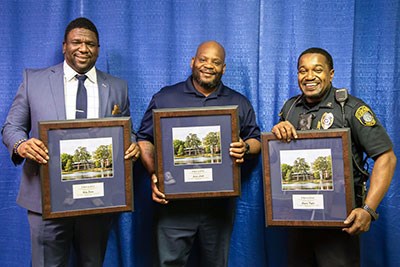 Britney Maddox, a recent graduate of the College of Information and Mathematical Sciences, was presented with the 2019 Chancellor's Academic Achievement Award, the highest awarded given by the University System of Georgia to a student.
The Annual Service Awards ceremony is sponsored by the Clayton State University Foundation.