Fall 2018 Commencement
Clayton State News
November 20, 2018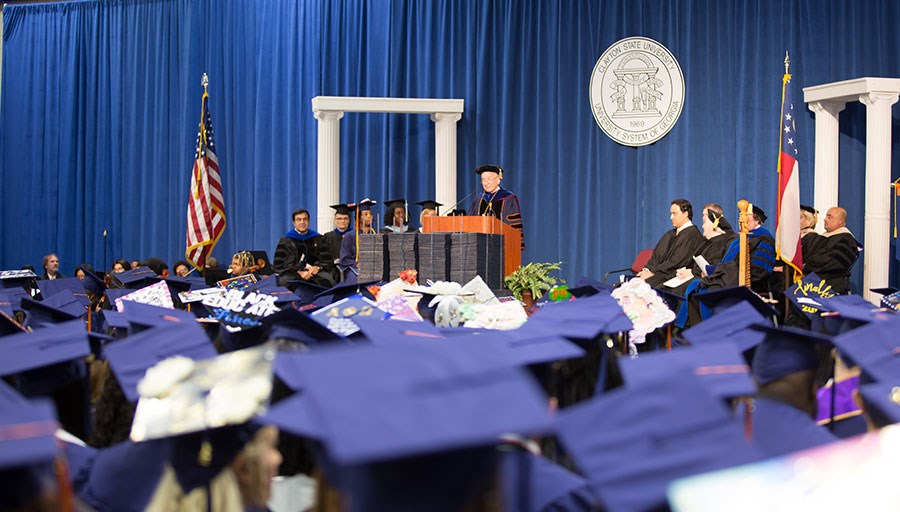 Ambassador Andrew J. Young has always viewed his career through the lens of his first career–that of ordained minister. His work for civil and human rights, his many years in public office as Congressman, United Nations Ambassador, and Mayor of Atlanta, as well as his leadership for the Olympic Games in Atlanta, his advocacy of investment in Africa through GoodWorks International, and the establishment of the Andrew J. Young Foundation are all a response to his call to serve.
Early in his life, Ambassador Young confronted segregation with Dr. Martin Luther King, Jr. and galvanized a movement that transformed a nation through non-violence. Young was a key strategist and negotiator during the Civil Rights Campaigns in Birmingham and Selma that resulted in the passage of the Civil Rights Act of 1964 and the Voting Rights Act of 1965.
Ambassador Young was elected to the U.S. Congress in 1972, the first African-American elected from the deep South since Reconstruction. He served on the Banking and Urban Affairs, and Rules Committees. He sponsored legislation that established a U.S. Institute for Peace, The African Development Bank, and the Chattahoochee River National Park, while negotiating federal funds for MARTA, the Atlanta highway system, and a new international airport for Atlanta.
In 1977, former President Jimmy Carter appointed him to serve as the nation's first African-American Ambassador to the United Nations, where he negotiated an end to white-minority rule in Namibia and Zimbabwe and brought Carter's emphasis on human rights to international diplomacy.
Ambassador Young is recognized by many in the Atlanta community for his leadership as Mayor of Atlanta in the 1980s, at a time when the nation experienced a recession and a reduction in federal funds for cities. He turned to international markets for investments in Atlanta attracting 1100 new businesses and $70 billion in investment adding 1 million jobs to the region. He also developed public-private partnerships to leverage public dollars for the preservation of Zoo Atlanta.
Ambassador Young also led the effort to bring the Centennial Olympic Games to Atlanta. As co-chair of the Atlanta Olympic Committee, he oversaw the largest Olympic Games in history–measured by the number of countries, the number of athletes, and the number of spectators. For his efforts, he was awarded the Olympic Order, the highest award of the Olympic Movement.
Ambassador Young has received honorary degrees from more than 100 universities and colleges in the U.S. and abroad. President Carter awarded him the Presidential Medal of Freedom, and France awarded him the Legion d'Honneur, the greatest civilian honor in each nation. He has received an EMMY for Lifetime Achievement and, in 2011, his portrait became part of the permanent collection of the Smithsonian National Portrait Gallery. Former President Bill Clinton appointed him the founding chair of the Southern African Enterprise Development Fund.
He serves on a number of boards, including the Martin Luther King Center for Non-Violent Social Change, Barrick Gold, the United Nations Foundation and the Atlanta Falcons, the Andrew Young School for Policy Studies at Georgia State University and Morehouse College.
Ambassador Young is the author of three books: A Way Out of No Way, An Easy Burden and Walk in My Shoes. He is the father of four and the grandfather of nine. Ambassador Young and his wife, educator and civic leader Carolyn McClain Young, reside in Atlanta.
---
Georgia State Representative Calvin Smyre is a business executive, state legislator, community and national leader. He represents a portion of Columbus, House District 135, in the Georgia General Assembly. Representative Smyre's career path has taken him from being a community organizer and director of the "War on Poverty" program in Columbus, to his current position as Executive Vice President of Corporate External Affairs at Synovus, a diversified financial services holding company with over $32 billion in assets based in Columbus. He is also president of the Synovus Foundation and serves on the company's eight-member Corporate Executive Group.
Representative Smyre was elected to the General Assembly in 1974 as its youngest member at 26 years of age. As a 33-year legislative veteran he is acknowledged as the Dean of the House of Representatives. He serves on the Appropriations Committee and the Rules Committee, and he is also Chairman of the House Minority Caucus. Representative Smyre has served as Chairman of the House Rules Committee and University System of Georgia Committee (predecessor to the Higher Education Committee), which had oversight responsibility for the state's 34 public colleges and universities from 1993 to 1999, and he served as Chairman of the House Industrial Relations Committee from 1991 to July 1993.
Representative Smyre has a distinguished legislative record which, includes authoring the legislation making Dr. Martin Luther King, Jr's birthday a state holiday and legislation creating the Georgia Dome, home of the Atlanta Falcons. He was also instrumental and co-sponsor of the historic legislation, HB16 in 2001, creating a new Georgia State Flag.
He has a number of "firsts" in his long political resume. In 1985, Governor Joe Frank Harris appointed him to the position of "Administrative Floor Leader", making Smyre the first African-American to manage the Governor's legislative priorities in the House of Representatives. He was the first African-American to serve as a representative from Georgia on the Democratic National Committee. In 2001, he was appointed the first African-American Chairman of the Democratic Party of Georgia
Nationally, he is President of the National Black Caucus of State Legislators, as well as a member of the Assembly on State Issues of the National Conference of State Legislators.
Representative Smyre has lectured at a number of colleges and universities and has received over 200 local, state, and national honors and awards. He has served as a board member for a number of nonprofits including the Morehouse School of Medicine; the Medical College of Georgia Foundation; Columbus State University Foundation; the Columbus Museum, and the Fort Valley State University Foundation, where he currently serves as Chairman. He is also a member of Omega Psi Phi Fraternity; SO-C-837 Club; Sigma Pi Phi Fraternity; the Boy Scouts of America, and a life member of the NAACP and SCLC.
Representative Smyre earned his Bachelor of Science degree from Fort Valley State University, majoring in Business Administration, with a minor in Accounting.
Born in Columbus, Georgia, Representative Smyre is a life-long member of Ward Chapel A.M.E. Church in Columbus and serves as a member of the Board of Trustees.
---
J. Celeste Walley-Jean, Ph.D. is the Dean of the School of Graduate Studies at Clayton State University. As Dean, she is responsible for the strategic leadership of graduate programming.
Dr. Walley-Jean has worked in higher education for 16 years. A native of Mississippi, she received her undergraduate degree from Spelman College and went on to earn a master's and a doctoral degree in Clinical Psychology from the University of Southern Mississippi. Prior to her current role, she was Director of the Master of Clinical/Counseling Psychology program at Clayton State University.
Dr. Walley-Jean's research interests are African-American College Students & Interpersonal Violence, African American Women & Anger, and Gender & Anger.