Name Usage
---
Use of University Name
The University name is Clayton State University. The entire name should be used in all references to the University. Clayton State may be used as a secondary reference when the full name has been used preceding it. Avoid using "CSU" except in situations where space is an issue for text.
Logo Usage
What is a logo?
A logo or wordmark is a recognizable and distinctive graphic design, stylized name, unique symbol, or other device for identifying an institution, organization, or business. When used consistently, it helps create a clear and memorable identity and becomes a symbol that provides audiences with immediate and powerful recognition and association with the institution.
Clayton State University has three official marks—the Clayton State University wordmark, university seal, and athletic logo. The wordmark may be widely-used by the Clayton State community, while the university seal and athletic logos are available for more selective use.
Who owns the University's logos?
University identity marks are the property of the Board of Regents of the University System of Georgia and are registered trademarks. The Board of Regents sets guidelines for how the marks can be used and requires that individual institutions assume responsibility for monitoring and protecting such usage.
These guidelines apply to anyone who might use a Clayton State University identity mark: faculty, staff, students, departments, internal and external organizations, printers, businesses, and vendors. Authorization for appropriate and accurate use of Clayton State's identity marks is essential to compliance with Board of Regents policy (7.11.8 Trademarks) as well as to positively promoting the University.
*IMPORTANT - Logos are not to be altered in any way. This includes changes in color, shape and dimension. The official University logos are legally protected trademarks appearing on official communications (online and print), partnerships and sponsorships. Failure to abide by these strict guidelines may result in the need to reproduce materials at the cost of the unit or department who created such materials. The Office of Marketing and Communications must approve any alternate uses of the logo.
Clayton State University Seal
The official University seal is a legally protected trademark reserved for use primarily on official documents such as diplomas, transcripts, awards, certificates, certain institutional literature such as the academic catalog, and items produced by the President's Office. The current University seal was last updated in 2005.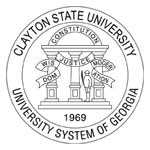 Uses
The Office of Marketing and Communications and/or the President's Office must approve other uses. The seal should not be used for marketing or other promotional purposes.
The seal must be reproduced from authorized original illustrations and should not be scanned, redrawn, or modified in any way. Do not use parts of the seal to create other logos or artwork. The Office of University Marketing and Communications will provide a digital file for approved uses.
The seal may be printed in black, blue, white (reverse from solid background), or gold. The seal may be foil stamped (silver or gold) or embossed.
Do not substitute the seal for the Clayton State University wordmark, which should appear on all external publications, websites, and other visual communications.
The official university seal is a stand-alone mark of the university and may not be combined with the Clayton State wordmark.
The seal may be used on certain high-end items approved; do not use the seal on general give-away promotional items such as T-shirts, mugs, key chains, etc.
See Our Work
Contact Us
Have questions? Need more info? Please contact us!
Marketing and Communications
Clayton State University
2000 Clayton State Boulevard
Morrow, GA 30260
Email