Annual Fund Phonathon
Dream Maker Scholarships (Goal: 25 scholarships)

With a commitment of $1,000 per year for two years, these scholarships will be carry the name of the donor and may have certain broad selection criteria established by the donor. Each scholarship will be given to one student, and the donor and student will have the opportunity to meet at the annual scholarship luncheon held each spring.

Loch Leaders Investment Fund (Goal $25,000 or 50 donors of $500)

This fund will recognize high achievers – those full-time students with a GPA of 3.5 or greater who demonstrate unmet need. Priority will be given to continuing students, new freshmen, returning students, and transfer students.

Donors can become a part of this group by making a commitment of $500 a year for two years. A select group of students will be designated as Loch Leaders each year. These students will have the opportunity to meet with the donors to this fund at the annual scholarship luncheon held each spring.

Laker Completion Grants (Goal $50,000 from many donors)

For so many of our students, they are the first in their family to attend college. Actually completing their coursework and receiving their degree is an incredible accomplishment and many times is postponed due to family situations, work demands, and, very often, financial challenges. The Laker Completion Grants will impact those students who are near degree completion and demonstrate unmet need. Priority will be given to those closest to completion with unmet need and a GPA of at least 2.5.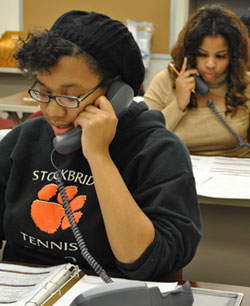 The Clayton State University Phonathon gives students who benefit from alumni support the opportunity to thank our donors and encourage their support. The phonathon is an integral part of Clayton State University's annual fundraising initiative and helps builds relationships with our alumni.
Want to be a member of the Phonathon?
The Phonathon is always look for students who are confident, well-spoken and are able to communicate the University's funding needs to our alumni and friends of Clayton State University.
Phonathon callers will be ambassadors and personal representatives of Clayton State University. Students are trained to contact alumni and friends of the University to build relationships, raise monetary support and offer updates on current campus events.
Students will gain valuable work experience that will build their public relations, fundraising, communication and marketing skills.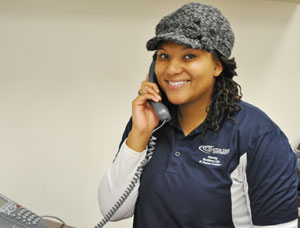 Compensation
$7.65 per hour
Temporary employee
Working Hours
Phonathon shifts run Monday- Thursday from 6 p.m. - 9 p.m..
For more information, contact the csuannualfund@clayton.edu or contact 678-466-5511.