The Georgia Film Academy Certification
The Georgia Film Academy Certification
Non-degree program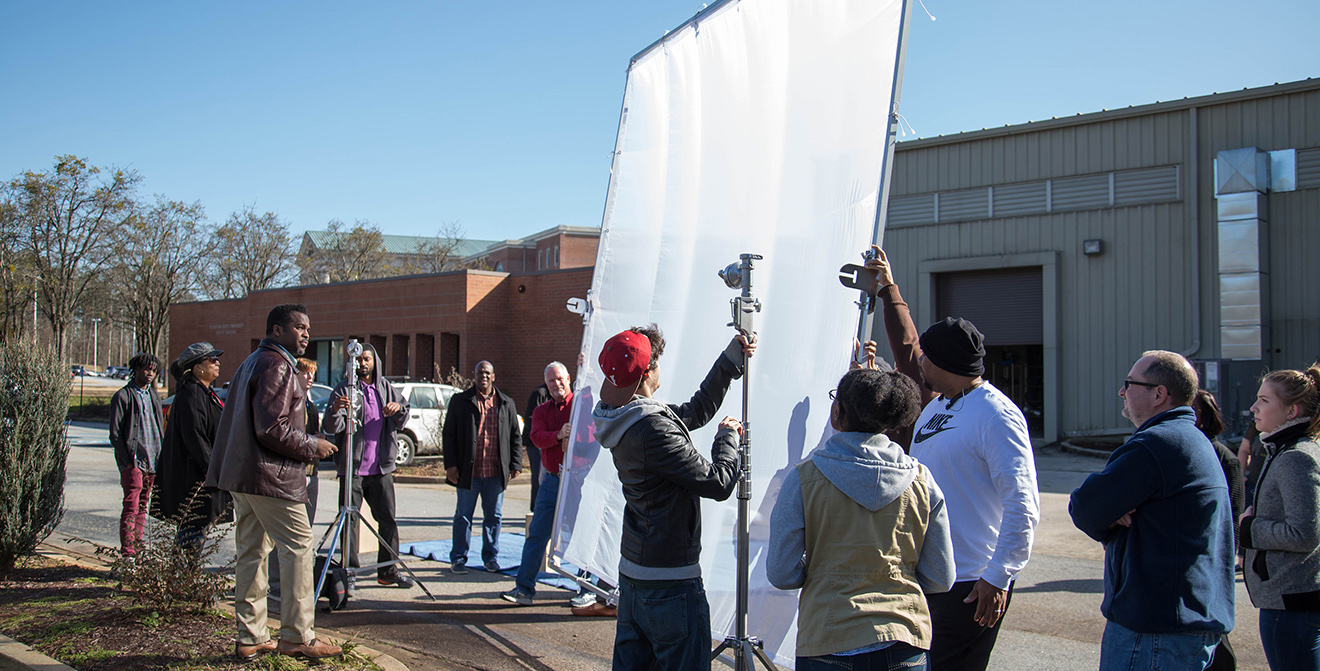 In partnership with the Georgia Film Academy (GFA), Clayton State University is excited to offer the GFA Certification (non-degree program). The program is for those who want to pursue a career in the film industry. It may be completed in as little as 32 weeks. A degree is not required to apply to the Certification program.
Film professionals are in demand
The film industry in Georgia is booming! The state is currently ranked number one in the world for feature film production and third in the nation for number of productions (behind only Hollywood and New York). The projected industry growth over the next three to five years will generate 3,000 to 5,000 new jobs, and the average earnings for jobs on set are $84,00.00 a year.
Getting into the film industry is not easy, and on-set film workers are needed in Georgia. On-set film workers need a very specific set of skills working with industry-standard equipment and some experience on professional productions to be considered for employment. The Georgia Film Academy Certification Program is designed to meet this need and prepare film professionals that are work ready for the set.
Student outcomes
Upon completion you will be fully trained and ready to work on a set in an entry-level position. In addition you will obtain a GFA Certification that will further prepare for you for jobs in the following areas:
Art: set dressers, props
Camera: operator, camera assistants
Craft services
Electric: on-set lamp operators
Grip: on-set, dolly grip
Locations: managing
Script supervision procedures
Set or office production assistant
Sound: mixer, boom operator, utility
Graduates will have access to our Office of Career Services, as well as staff at the GFA, who will assist you in finding available job opportunities.
Why GFA Certification?
The Georgia Film Academy Certification signals to those hiring for the film industry that you have received the educational and hands-on training needed and possess the basic level of on-set film production skills, knowledge and experience with film-industry standard organizational structure, professional equipment and on-set procedures.
Program requirements
Potential students must apply to the Georgia Film Academy Program via the application process as explained on this site. You may click on the blue tab "Apply" above for more information. Upon acceptance into the GFA Program, students must complete 18 credit hours in order to attain the GFA Certification. All GFA classes are 6 credit hours each.
A student must successfully complete three of the available course offerings from GFA to attain the GFA Certification. Courses include: Georgia Film Academy I; Six Craft Courses: Electric and Lighting, Set Construction & Scenic Painting, Grip & Rigging, Special Make-Up Effects, Post Production/AVID and Production Accounting; and the Georgia Film Academy On-Set Experience Internship Course. Please note that Continuing Education courses do not count as college credit and are not eligible for most forms of state and federal financial aid.
Please refer to course descriptions provided at https://www.clayton.edu/film-and-digital-media/apply/
Location & Delivery format
Pinewood Production Studio in Fayetteville; Southern Crescent Tech in Griffin; OFS Studios in Norcross.
Students will learn through a combination of class lectures, class exercises and hands-on training.
Applying to the program
The summer GFA 1 Classes begin:
The fall GFA 1 Classes begin:
Tuition
The GFA believes this certification is critical to the future of Georgia's economic development therefore we are subsidizing the cost, and reducing it by half that of an average college course. The "Additional 6-hour Course" could be Electric and Lighting, Set Construction, Grip & Rigging or Georgia Film Academy On-Set Experience Internship course Note: There is a separate process to enter the On-Set Experience Internship course. For AVID and MediaComposer classes, a separate materials fee of $100 is due upon registration and textbooks will also be required.
| | |
| --- | --- |
| Georgia Film Academy I | $750 |
| Additional 6-hour Course | $750 |
| Additional 6-hour Course | $750 |
| Total | $2,250 |
Degree Option
Clayton State also offers an A.A. in Film Production. This two-year, 60-credit program is for those interested in pursuing a career in the film industry, and for those already working in the industry that are seeking an opportunity to earn a college degree. Learn more about this option.
Contact Us
Contact us for assistance in deciding which option is best for you. (678) 466-5085 FilmAndDigitalMedia@clayton.edu
About the Georgia Film Academy
The Georgia Film Academy is a collaborative effort of the University System of Georgia and Technical College System of Georgia supporting workforce needs of the film and digital entertainment industries. The academy certifies workforce ready employees in needed areas, connect students and prospective employees with employers, and offer a unique capstone experience for top students that will provide them a path to employment in Georgia. Special partnerships include Pinewood Studios located in Fayetteville, Georgia.