President's Tree Courtyard
Project Supervision: by internal CSU resources Donald K.West, Project Manager; Allen C. Glover, Assistant Director of Landscape Services
Contractor: PKS Construction (sidewalk installation) In-House grounds department (landscape material installation)
Construction Dates: December, 2010-January, 2011
Work in Progress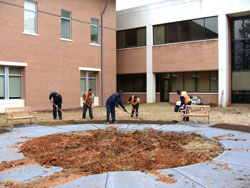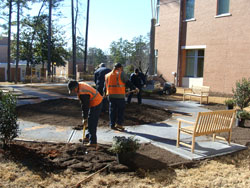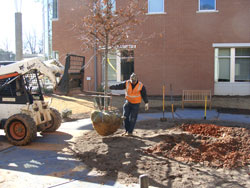 Work Completed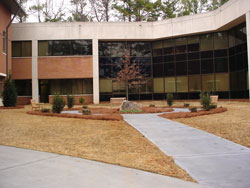 As part of on-going campus beautification, this project was initiated for the recognition of the inauguration of Dr. Hynes, the fourth President of Clayton State University. The site is located between the School of Business and Clayton Hall.
Project Scope:
Create a dedicated space for the University's President that student can utilize for study and social gathering.
Provide additional seating and an outdoor meeting area on campus.
Provide an aesthetically appearing space.
Beautify the space with stately Nuttall Oak tree, surrounded with camellias, azaleas, and daylilies for color through the year.