Physical Education Pond Landscape
Design: In-house, Justin Brooks, Assistant Director of Landscape Management
Contractor: In-house Landscape Management crew
Construction Dates: Fall 2012
Landscape for Physical Education Pond has been completed with low maintenance (no shearing or heavy pruning ever needed), flowering and color interest for all seasons fragrant plants.
List of Plants:
Border Forsythia – Forsythia x intermedia
Creeping Raspberry – Rubus pentalobus
Evergreen Clematis – Clematis armandii
'Tallahassee Sunset' Love Grass – Eragrostis elliottii
Autumn Fern – Dryopteris erythrosora
'Kaleidoscope' Abelia – Abelia x grandiflora 'Kaleidoscope'
Pink Muhly Grass – Muhlenbergia capillaris
Dwarf Crepe Myrtle – Lagerstroemia indica 'Razzle Dazzle'
Tea Olive – Osmanthus fragrans
Smoke Tree – Cotinus coggygria
Dawn Redwood – Metasequoia glyptostroboides
Witch Hazel – Hamamelis virginiana
'Purple Pixie' Loropetalum – Loropetalum chinense 'Purple Pixie'
Banana Shrub – Michelia figo
Japanese Sweet Flag – Acorus gramineus 'Ogon'
Weeping Rosemary – Rosmarinus officinalis 'Prostratus'
Paperbark Maple – Acer griseum
Corkscrew Willow – Salix matsudana 'Tortuosa'
Red Hot Poker – Kniphofia spp.
Joe Pye Weed – Eupetorium spp.
Area after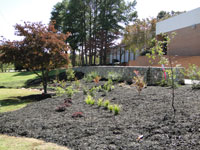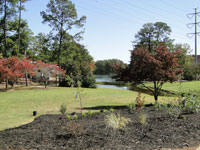 Area before