This is my Training page
Editing Text (adding, deleting, updating, moving)
How do I add a new text to an existing paragraph?
Add new text to the first paragraph:
Clayton State University is a place where dreams are made real, not only for our students, but for our employees as well. Easy stuff :)).
Just hit retern to add a new paragraph. Easy. :)
Hello, this is easy:)
The University offers employees professional opportunities and personal development in a diverse, inclusive environment. The campus is situated just 20 * minutes from downtown.
Atlanta on 313 beautiful acres, making access to the metropolitan area a breeze.
Delete the paragraph below:
We've been named a Top Workplace in Atlanta by the for six consecutive years. And we also were named one of 79 higher education institutions across the nation in The Chronicle of Higher Education's list of 2017 Great Colleges to Work For. So, it's easy to see why Clayton State is a great career choice.
hgdhghdgh

ghhgdhg
hghdghgh
ggfgfgfgfgffgfg

hdhgdhgh
---
How do I edit text in a title or subtitle?
Title is a Heading 1
Subtitle is a Heading 2
---
How do I edit text in an accordion on my webpage?
Edit the text in the left and right columns of the Accordion below:
---
How do I paste text from MS Word?
The first icon allows you to paste MS Word formatting as it is in the document. You will need to use the keyboard to do a paste.
When pasting text copied from a MS Word File and trying to use the first icon, the system will ask you to use Command C/V to paste the content copies from a MS Word file.

Paste Content from a Word file below. You will notive the formatting from word will be retained in the text that is pasted.
Mike Thompson
Alumni Spotlight
"I always wanted to be on TV. At least I thought I wanted to be on TV," says Mike Thompson '12, graduate of the Communication & Media Studies program at Clayton State University and current multimedia and digital content producer for WFDG Fox 54 in Augusta, Georgia. While he did not know the exact path getting into the television industry would take her, Mike's story is one of dedication and personal branding.


| | | |
| --- | --- | --- |
| Items | Amount | Price |
| Apples | 2 | 1.99 |
| Oranges | 3 | 2.99 |
| Pears | 4 | 3.99 |
Contact Us


Office Hours
Monday - Friday
9 a.m. - 4 p.m.
Mailing Address
School of Graduate Studies
Clayton State University
2000 Clayton State Boulevard
University Center 205
Morrow, GA 30260
Master of Science in Clinical/Counseling Psychology (MSCCP)
Master of Science in Supply Chain Analytics (MSSCA)
Master of Strategic Leadership Development (MSLD)
Post-Master's Certificates
---

The 2nd icon allows you to paste MS Word formatting as text. which will remove the formatting.
Paste as text from a Word file.
There are certain restrains on how text can be formatted in Omni CMS, but text does have a certain structure in HTML (Hypertext Markup Language) for important reasons.
The introduction of HTML 1.0 had an objective

for sharing data and information which can be accessed through web browsers. Over time, the development of HTML has kept the initial, structural, fomatting conventions and has added Cascading Style Sheets (CMS) to format text in a more advanced manner.
Using the pull down menu labeled "paragraph," text can be formatted structurally and will keep the text within Clayton State's branding style guide. There is also a "styles" drop dpwwn that has two formatting choices.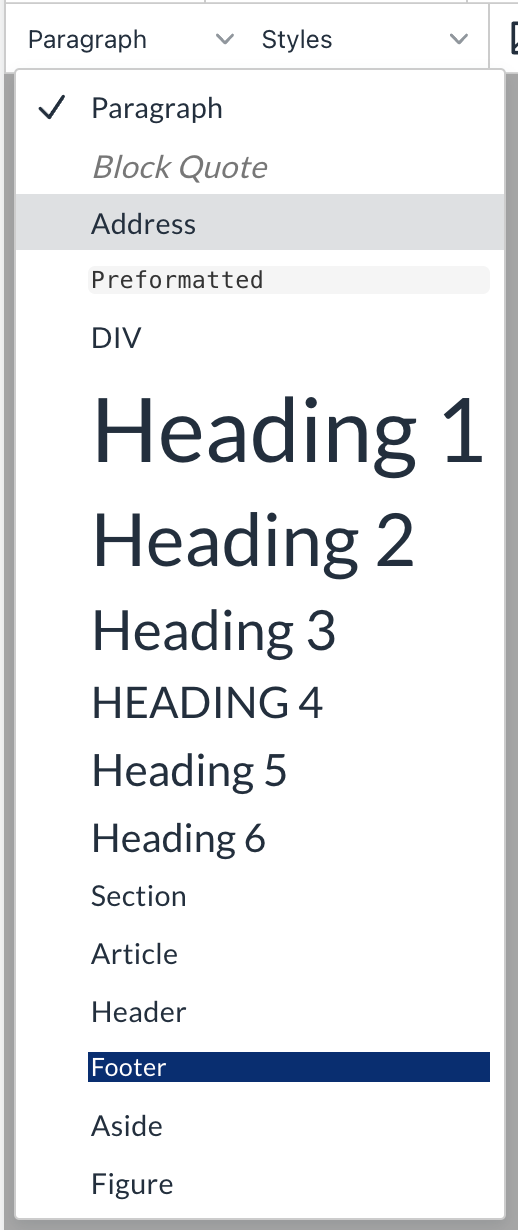 ---
Format this text as a paragraph.
---
Format the text below as an address.
23 Osborne Terrace
Wayne, NJ 07470
---
Format this text as Blockquote.
---
Format This Text as a Heading 1.
---
Format This Text as a Heading 5
---
Format this text with a style of Intro First Sentence (P Elements)
---
How do I create a data table?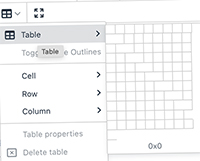 ---
Editing Images & Graphics
How do I add a new image or graphic to a web page?
Place a image or graphic here.
---
How do I replace an existing image or graphic?
Place an existing image or graphic below:
---
How to I move an image or graphic?
---
How do I resize an image or graphic?
---
What is an Alternative description requirement and how to add or edit this description?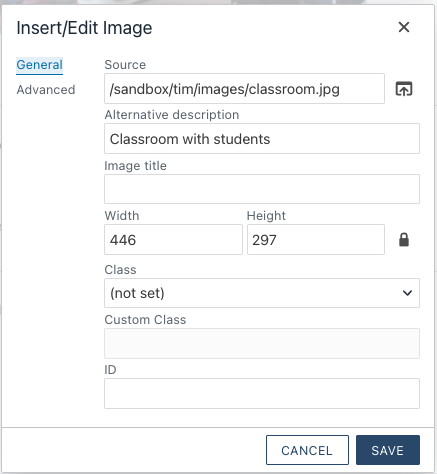 Click the image and then select the image icon in the menu bar.

---
How do I make an image or graphic a clickable link?
Select the image below and click on the Insert /edit Link icon.

Add the link in the URL text field.
---
Links and Documents
How do I add a text link to a page?
Select the phrase below and add a link to another page in the web site:
Read More
---
How do I link to an external link?
Select the text below and add a link to Google:
Visit Google's website
---
---
How do I add a Word or PDF file?
How do I link to a Word File or PDF file?
How do I add link to the left navigation?
How do I add an email link to text or an email address in the text?
Saving, Preview, Review and Publishing
How do I save my changes?
How do I publish my changes?
How do I set my changes to be posted at a future time?
How do I review a page before publishing it?
How do I publish a page?
How do I revert a page to a previous version?
How do I compare two versions of a page?
Snippets
How do I place a Snippet on a page?
Content accordion
Troubleshooting
Why won't my image upload to the system?

Staging versus Production
File name conventions

Why can't I edit a page?
Why can't I see my changes in the browser after I published by changes?

Clearing your browser cache.
Mac: Top Left Chrome menu > Clear Browsing Data > Click Browsing History box > Clear Data
PC: Top right of Chrome > Click 3 dots > More Tools > Clear Browsing Data > Check Browsing History box > Clear Data
Take Action
AACSB Accreditation
Among the only five percent of business schools in the world with AACSB accreditation, we are internationally-recognized for providing excellence in business education.
Academic Excellence
The College has been recognized for preparing the next-generation of leaders in today's economy, including being named among the best colleges and universities for a bachelor's and master's degree in business by U.S. News and World Report.
Educational Value
Consistently recognized for affordability, we strive to provide graduate and undergraduate programs that combine quality and value. SR Education Group ranked the College no. 2 for the Most Affordable Colleges for Bachelor's degree in Business.